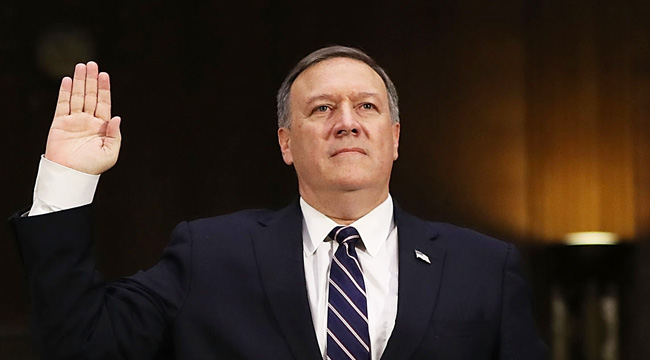 Special Counsel Robert Muller, despite the overarching threat of termination by President Trump, continues to probe whether Trump campaign members colluded with Russia during the presidential election. Still, Trump just declined to impose sanctions imposed by Congress against Russia last year for election meddling. Meanwhile, Trump-appointed CIA Director Mike Pompeo is preemptively sounding the alarm for this year's U.S. mid-term elections. Of Russian attempts to subvert other countries' political processes, Pompeo told the BBC, "I haven't seen a significant decrease in their activity."
Pompeo once dramatically accused Russia of using their propaganda outlets to "actively collaborate with WikiLeaks" while meddling in the presidential election. He now says that Russia has not been deterred, and Putin's hackers will undoubtedly attempt to wreak havoc in this year's U.S. mid-term elections, but Pompeo believes that "we" can prevent Russia from having a discernible effect:
"I have every expectation that they will continue to try and do that, but I'm confident that America will be able to have a free and fair election [and] that we will push back in a way that is sufficiently robust that the impact they have on our election won't be great."
Pompeo was quick to assert that he considers China to be as much of a cyberthreat as Russia. The sentiment fits with the Trump administration's questionable desire to privatize the 5G network, but Pompeo says that China is also infiltrating schools, corporations, and hospitals within the U.S., and he believes, "We have to do better at pushing back against Chinese efforts to covertly influence the world."
As for the president, Pompeo told the BBC that Michael Wolff's Fire and Fury book was inaccurate in its claim that Trump doesn't understand how to navigate important foreign policy matters. Further, Pompeo pushes back against the claim that Trump could tweet the U.S. into war with North Korea. Trump's Twitter aggression, Pompeo said, "Hasn't caused us any trouble." Yet.