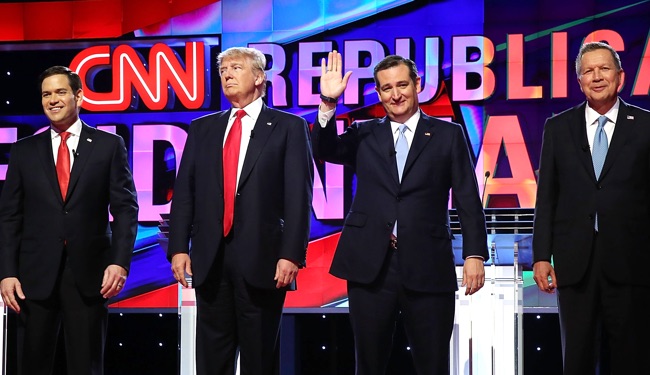 The Republican presidential candidates must have held a secret meeting before Thursday evening's CNN Miami debate. For whatever reason, they were all on their best behavior. John Kasich has always acted like the resident adult, but his tone was mirrored by Ted Cruz, Marco Rubio, and even Donald Trump. This was a bizarre evening, folks, for the reality of Trump talking issues was a jarring one. Such gentility should have provided a welcome haven, but after eleven insult-filled debates, these guys suddenly walked out with halos atop their noggins. They acted like a table full of well-mannered children eating their Thanksgiving veggies for the promise of dessert.
In other words, this night felt like an insincere playact. Obviously, these men agreed to drop the mudslinging routine, but it played like a temporary measure before several big states vote next week. Immediately after the debate, Trump described the evening as "elegant" on a live CNN broadcast. Let's play along and examine the issues, which did see some rage simmering beneath the surface. After all, these candidates can't hide their differences forever, but Trump played nice with Ted Cruz for a disconcerting handshake (Note: Cruz closed the debate with some stunning shade).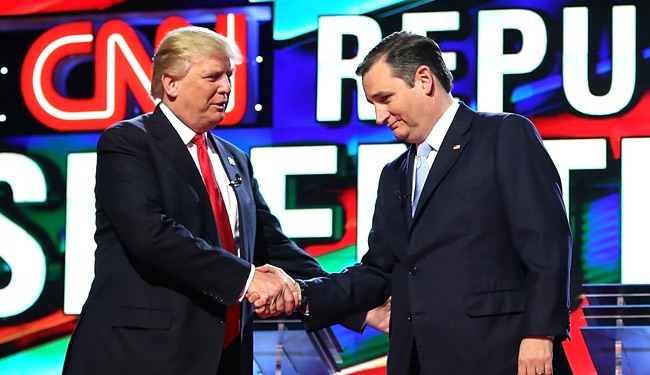 Marco Rubio also looked thrilled to be in Trump's company, and it's no wonder. Rubio recaptured his oratory skills, and Trump completely failed at talking substance. He'll always rely upon bombastic promises, and Rubio's well-rehearsed approach served him well. As we'll discuss, he only slipped up once with an issue near and dear to Floridians.
Trump Doubles Down On His "Islam Hates Us" Quote
One standout debate moment involved Trump flat-out denying that he encourages violence at his rallies, and he also followed up on his most recent statement about Islam. When asked whether he truly thinks Islam hates America, Trump grew messier, and Rubio disagreed:
Trump: "I mean a lot of them. There's tremendous hatred and I will stick with exactly what I said."

Rubio: "Presidents can't just say what they want. It has consequences…"

Trump: "I don't want to be so politically correct. It would be very easy for me to say something differently, and everyone would say, 'Oh, isn't that wonderful?' We better solve the problem before it's too late."
Rubio: "I'm not interested in being politically correct. I'm interested in being correct. We are going to have to work with people of the Muslim faith."
That's the bare-bones rendition of the conversation, but this video reveals plenty of applause when Rubio further elaborated. If he always executed like this, Rubio could have been a contender.

Cruz Denounces Trump's Right-Armed Audience Pledge
Last weekend, Trump flirted with controversy by asking rally attendees to raise their right arms and pledge their votes to him. Cruz took issue with such a backwards pledge, for he feels candidates should instead make promises to voters. Trump claimed not to know why people drew Hitler comparisons to the crowd salute:
"Everyone's laughing, we're all having a good time. That's why I have much bigger crowds than Ted, because we have a good time at mine … and the next day, on the Today Show and a couple of other places … they tried to equate it to Nazi Germany. It is a disgrace."
Trump played dumb with the Nazi salute comparisons because that's his usual routine — engineer a reaction and act disgusted when the desired result materializes.
Rubio And Trump Disagree Over Social Security
The most substantive section involved three million Floridian retirees. Rubio referenced his own family while asserting, "I'm against any changes to Social Security that are bad for my mother." He suggested keeping the program intact for current seniors, but adding a sliding scale for younger folks. He laid groundwork for bumping up retirement age and paying fewer benefits to wealthier citizens. Rubio calmly explained that Social Security and Medicare will weigh down the budget within five years and leave only 17% of revenue as discretionary. Trump didn't agree with any of these propositions. He wants to leave current guidelines intact and grow the economy so it can support these programs. Trump's surprising reply was also vague, and Rubio's answer will likely score more Republican points.
Rubio Denies Humans Cause Climate Change
Rubio delivered his strongest debate performance in months, but his climate change stance may not have endeared him to Floridians coping with flooding conditions. Miami Mayor Tomas Pedro Regalado, who endorses Rubio, asked (via Jake Tapper) the candidate to "acknowledge the reality of the scientific consensus about climate change" and pledge support. Rubio responded, "Sure, the climate is changing and one of the reasons is because the climate has always been changing." That's probably not what Regalado was hoping to hear, and Rubio concluded that no law that Washington proposes would help the weather. He then added a befuddling statement: "America is not a planet. It's a country."

Cruz's closing remarks provided a fitting sign off as he described the four candidates to a tee: "Son of a bartender, son of a mailman, son of a dishwasher, and a successful businessman." #shade