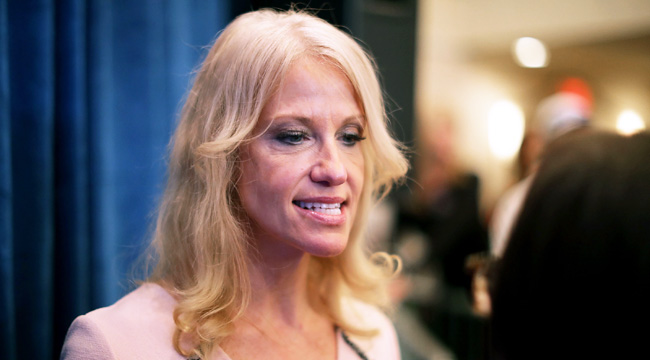 On Thursday, House Committee on Oversight and Government Reform Chairman Jason Chaffetz said Kellyanne Conway's plug for Ivanka Trump's clothing line on Fox News was "clearly over the line, unacceptable."
The incident followed Nordstrom's removal of Ivanka Trump's clothing line due to declining sales. Papa Trump didn't take too kindly to his daughter being mistreated and slammed the department store on Twitter. Conway took it upon herself to defend her boss and his daughter on Fox and Friends and promoted Ivanka's line from the White House. Some saw this as a violation of federal law (which it likely was) and wanted to see action.
During his daily press conference on Thursday, Sean Spicer said Conway was "counseled" about her comments, which may equate to a mere slap on the wrist. But some weren't happy with this. Rep. Elijah Communings sent a letter to Chaffetz asking to investigate Conway's promotion: "This appears to be a textbook violation of government ethics laws and regulations enacted to prevent the abuse of an employee's government position." Chaffetz appears to agree with that statement, believing it to be unacceptable for Conway to abuse her position:
NBC's Benjy Sarlin also reports that Chaffetz is planning a bipartisan letter on the matter, and "it should have never happened and they better learn this lesson very quick."
UPDATE: Chaffetz has now issued the bipartisan letter and posted a link on Twitter.
(Via The Associated Press, Salon, Mediate, NBC & CNN)