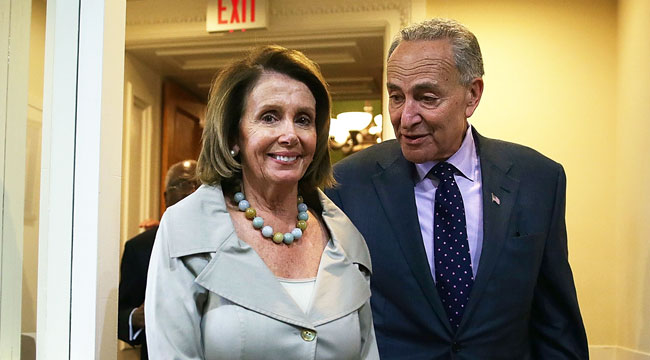 In the week that's passed since Attorney General Jeff Sessions announced the rescinding of DACA by the Trump administration, the pushback has been enormous. Trump later issued a bizarre "nothing to worry about" tweet to Dreamers (those undocumented immigrants who arrived in the U.S. as minors), which was supposedly at the urging of House Minority Leader Nancy Pelosi. The tweet puzzled many since Trump was requiring Dreamers to leave after current work permits expired. Now, the tweet makes a little little more sense due to a deal between Trump and Congressional Democrats.
According to CNBC, Pelosi and Senate Minority Leader Chuck Schumer reached an agreement with Trump to protect 800,000 Dreamers, who no longer have to worry about deportation. And supposedly, Trump's beautiful Wall did not make into the deal as a condition. Here's more:
"We had a productive meeting at the White House with the President. The discussion focused on DACA," Senate Minority Leader Chuck Schumer and House Democratic Leader Nancy Pelosi said in a statement following a White House dinner with Trump.

"We agreed to enshrine the protections of DACA into law quickly, and to work out a package of border security, excluding the wall, that's acceptable to both sides," they added.
So, the Dreamers can sleep much easier tonight, and Trump should be happy with increased border security. However, Press Secretary Sarah Huckabee Sanders disagrees with part of the announcement. She tweeted that "excluding the wall was certainly not agreed to." Real, or a Sanders lie?
(Via CNBC)