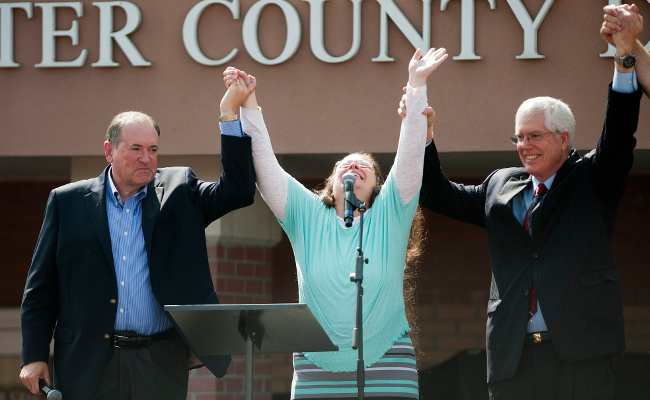 Because 2016 can't be any different from 2015, Kim Davis is attending tonight's State of the Union address. And it turns out that the congressman whose extra ticket went to Davis didn't even know that he had "invited" her. Just how did that ticket get to America's favorite religiously-principled county clerk?
The Huffington Post unraveled this long and twisted thread by finding out that her ticket was originally that of Republican congressman and House Freedom Caucus Chairman Jim Jordan. When they asked him about it, he said, "I didn't invite anyone."
He then confirmed that his ticket had indeed gone to Davis after he called his congressional office. His staff had given the ticket to the Family Research Council, which then gifted it to Davis. Mystery solved.
For the record, Jordan doesn't care that the ticket went to Davis. So all is well, Davis will be at the State of the Union to counter Jim Obergefell, the plaintiff whose case led to the Supreme Court legalizing gay marriage throughout the entire United States, and who will be seated in the First Lady's box at the address. Just like Paul Ryan answering President Obama's speech with his "poker face," balance has been restored to this hallowed event.
(Via Huffington Post)