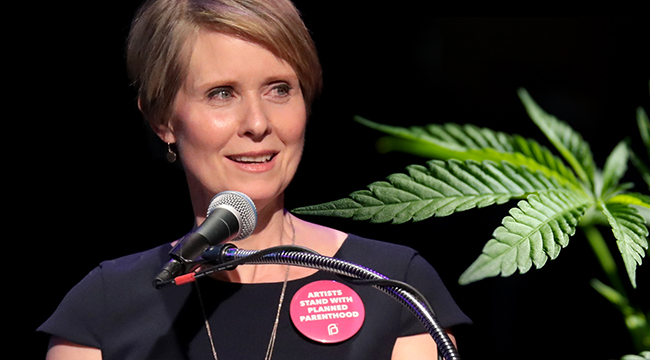 Former Sex and the City star Cynthia Nixon knew she'd have to fight hard to be taken seriously while attempting to unseat New York Governor Andrew Cuomo with a Democratic primary challenge. She's already laughed off an "unqualified lesbian" dig from a Cuomo associate while focusing on a platform that stresses how, despite her actress status, she's a tried-and-true New Yorker who takes the subway. And in terms of public appeal, Nixon has added a very popular agenda to her platform — legalization of marijuana.
The New York Times reports that Nixon is keen to have her state follow in the footsteps of Colorado and California. Indeed, when quizzed on the subject at a fundraiser, Nixon expressed enthusiasm at how taxing legal marijuana would provide a financial windfall for New York. Not only that, but authors Isabel Gillies and Dan Davenport relayed how Nixon's excitement included a fist pump:
Ms. Nixon made some prepared remarks and took questions. She said she would "legalize marijuana and put a tax on it," Ms. Gillies said.

Dan Davenport, an editor and writer who also attended, recalled that when Ms. Nixon was asked about legalizing marijuana, she "pumped her first and said yes."
Of course, Nixon couldn't legalize weed on her own as governor. She's have to work alongside a New York state legislature that's grown quite accustomed to watching Cuomo compromise with the GOP, but Nixon wasn't messing around when she hinted about being a much "bluer" Democrat than her rival. By standing up for weed legalization, Nixon's aligning herself with progressive voters, and, as with California, she may have also placed herself in Justice Department crosshairs. The New York primary will definitely be one to watch.
(Via New York Times)