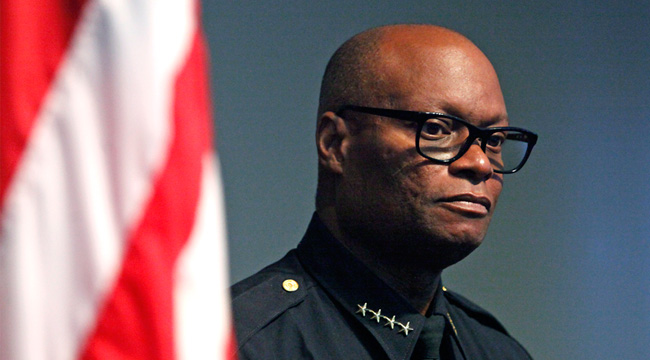 In July, Dallas Police Chief David Brown received national recognition for his unbelievable strength following a sniper attack on his force. Many of Brown's officers were marching alongside Black Lives Matter members during the anti-brutality protest that ended in bloodshed, and his city — along with the nation — struggled to find answers. In the immediate aftermath, Brown delivered an affecting speech where he asked for public support: "All I know is that this must stop, this divisiveness between our police and our citizens."
Even more sadly, this atrocity was only the latest loss that Brown had seen in his life. His son, brother, and former partner all lost their lives through gun violence. The sniper attack hit incredibly close to home in multiple ways for Brown, but this also led many to believe that he was the most fitting leader that Dallas could have possibly hoped for during this terrible time.
Nearly two months after the sniper attack, Brown has announced that he will retire this fall. The planned date, October 22, shall be his 56th birthday. The announcement comes as a surprise to many, but Dallas Council member Jennifer Staubach Gates tells the Dallas Morning News that she anticipated Brown stepping down within the next few years, and she's certain he is "physically exhausted." She and Gov. Greg Abbott both thanked Brown for his service to the city, and Abbott believes that "Dallas has emerged even stronger" with much credit to the chief. Brown remembered his fallen officers in his retirement statement:
"Serving the citizens of Dallas in this noble profession has been both a true honor and a humbling experience. Let's always remember the fallen officers including the five officers on July 7, 2016, and the brave men and women of the Dallas Police Department for their sacrifices to keep Dallas safe. I know the people of Dallas will never forget the ultimate sacrifice they made on the streets of our city that awful night."
Brown also revealed how he found it "difficult" to retire, but that, at the beginning of his career, he never hesitated to become an officer. Brown joined up with the Dallas Police Department in 1990 and became chief in 2010. During one post-sniper speech, he delivered harsh truths about how officers wear too many hats, and he requested help from the community. In response, the department saw a 344 percent surge in applications. Like many Brown associates, former City Manager Mary Suhm sang his praises after the retirement announcement. Suhm revealed that some "outsiders" believed Brown would never last as police chief when he was appointed. She never doubted — not for a moment — that he could get the job done.
(Via Dallas Morning News, CNN & Yahoo)