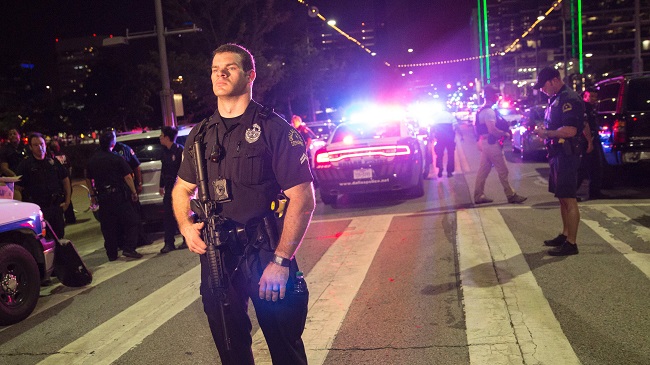 Despite a troubling case of misidentification, the Dallas Police Department successfully apprehended and identified the person responsible for Thursday night's horrific attack at a Black Lives Matter protest. Chief David Brown didn't identify the suspect by name during his moving press conference Friday morning, but a local CBS affiliate and the Los Angeles Times report the department ousted 25-year-old Micah Johnson as the culprit.
At the same conference, Dallas Mayor Mike Rawlings insisted neither he nor the department would tell the press "anything about the suspects," since the investigation was ongoing. However, CBS DFW suggests Micah Xavier Johnson of Mesquite, Texas — an eastern suburb of Dallas — was the suspect whom Brown referred to while talking to the media. The Los Angeles Times confirmed Johnson's name with "two U.S. law enforcement officials," adding that the suspect had no known criminal record or history of affiliation with extremist groups of any kind.
According to Brown, officers on the scene cornered Johnson in the El Centro College parking garage in downtown Dallas late Thursday night. The suspect negotiated with them for several hours, telling them he was "upset with white people" because of the recent shooting deaths of Alton Sterling and Philando Castile. He also added that he wanted to "kill white people, especially white police officers." Johnson later exchanged more gunfire with police before he was killed by a robot-detonated bomb.
UPDATE — 11:56 a.m. ET: ABC News reports Johnson was a former reservist in the U.S. Army who served three tours in Iraq. Defense officials familiar with the suspect said that, until April 2015, Johnson trained and served as a "carpentry and masonry specialist."
(Via CBS DFW and the Los Angeles Times)