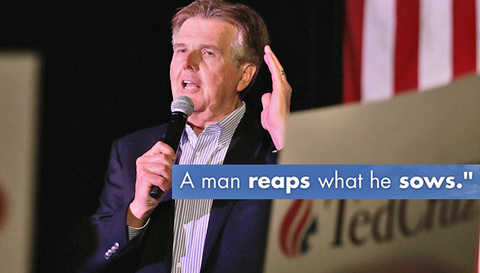 Early on Sunday morning, a gunman opened fire at Orlando's Pulse Nightclub, killing at least 50 people. The gunman, who also died inside in the nightclub, was identified as Omar Saddiqui Mateen, who worked as a private security guard. Law enforcement is investigating this crime as a terrorist attack, and as a possible hate crime, given the fact that Pulse was a gay nightclub. Mateen's own father has said that an incident where his son got upset at seeing two men kissing might be the cause.
Unfortunately, there may be some prominent politicians who may have agreed with Mateen's purported reasoning. According to the Houston Chronicle, Lt. Governor Dan Patrick tweeted early on Sunday morning that "a man reaps what he sows." The tweet has since been deleted, but not before backlash on Twitter, with the Chronicle quoting a tweet that condemned Patrick:
"Tweeted as new breaks of mass casualties at a gay nightclub. Vile," one Twitter user said. "Have you no shame?"
Here's a screenshot of Patrick's tweet:
Here's a response from actress and activist Mia Farrow:
And some affirming replies to her tweet:
Patrick's adviser Allen Blakemore has since released a statement about the shooting, saying, that he is "stunned and saddened" by the tragedy. The statement asserts that the tweet in question was not meant to comment on the shooting, and that Patrick regrets "the unfortunate timing":
"Regarding this morning's scripture posting on social media, be assured that the post was not done in response to last night's tragedy. The post was designed and scheduled last Thursday."
Patrick is well known for his religious views, and supported a bill that would allow religious institutions to not perform same-sex marriages if it violates their religious beliefs. Perhaps this is why people are so skeptical that the "reap what you sow" tweet wasn't a coincidence, or something that could be blamed on the occupational hazards of social media.
(via Houston Chronicle)