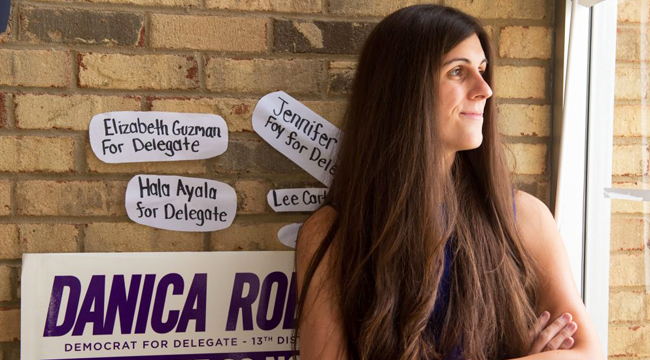 Danica Roem has made history. The 32-year-old transgender woman becomes the first openly-trans person to be elected to Virginia's state legislature defeating her opponent Robert Marshall by over 2,000 votes, which translated to just over a nine-percent victory margin. Her historic victory makes her the second trans woman to ever be elected to state legislature in American history, the first being Althea Garrison who served in the Massachusetts House of Representatives from 1993 to 1995.
What makes her victory even sweeter is that it comes against an opponent in Marshall who is considered one of the most fiercely anti-LGBTQ reps in the country. He refused to debate Roem in the leadup to the election, and also declined to refer to her as "she." Now, the Democrat has a seat in Virginia's House of Delegates at a key time when Democrats have been on the losing end of local elections for years.
In an interview with Mother Jones, Roem made it clear that her election wasn't solely based on civil rights: "Transgender people have really good public policy ideas that span the gamut of transportation policy to health care policy to education policy, and yes, to civil rights as well. We shouldn't just be pigeonholed into the idea that we're just going to be fighting about bathrooms."
Ironically, Marshall authored one of those infamous "bathroom bills," but now he's gone.
https://twitter.com/EricKleefeld/status/928062608179105792