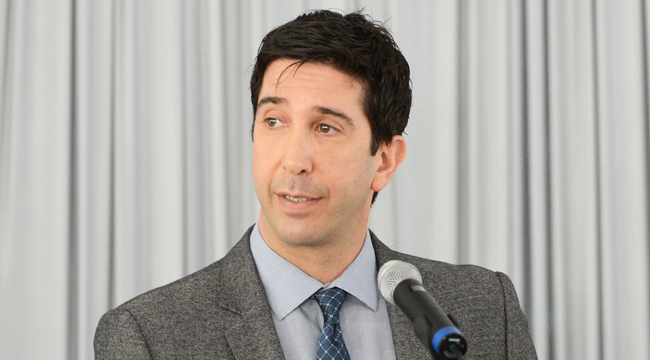 Perhaps not everyone is aware of how former Friends star David Schwimmer has served as an anti-violence advocate for women for over a decade (he is photographed above at a 2012 Rape Treatment Center Brunch in Beverly Hills). He also helped publicly launch the #AskMoreOfHim movement in March as a response to the #MeToo initiative amid the post-Harvey Weinstein climate in Hollywood and elsewhere.
Schwimmer has now spoken with Esquire about his hopes for a different future for women in the workplace. He stresses that men need to acknowledge that "for a long time our opinions have dominated," and he says that criticism should be expected, but that "it should be responsible." Along those lines, Schwimmer believes that's important to reflect upon Weinstein's decades-long pattern of predatory behavior — which included a hit list of nearly 100 names for his army of ex-Mossad agents and private investigators — on a "spectrum of bad behavior." Schwimmer then argues in favor of contextualizing less egregious instances of sexual harassment with a critical eye:
"What we need is to allow for context, and to recognize a spectrum of bad behavior. At the moment, because of the current climate, Al Franken is being lumped in with the Harvey Weinsteins of the world. This is a terrible — and horrifying — mistake. I am not excusing any individual's inappropriate or criminal behavior here, just pointing out that there is a difference between these two men and their actions — and that difference is critical."
Indeed, Weinstein's pattern of predatory behavior is obviously not identical to the Al Franken allegations. The now-ex-senator resigned after criticism from both parties after radio host Leeann Tweeden accused him of groping and kissing her without consent during a USO tour, and multiple other women alleged that he groped them during photo ops. Although Franken's alleged behavior was unsavory, Weinstein's alleged rapes clearly lie elsewhere on the "spectrum of bad behavior," and that's the point being made by Schwimmer.
What Schwimmer is digging into could be viewed as precarious territory by some, but his words are important to reflect upon while a more nuanced view of the tidal wave of accusations (against many men in power) takes shape in the cultural dialogue. Schwimmer further maintains that this contextualization is important, otherwise, society runs the risk of men "staying silent," which won't ease any progress being made by #MeToo.
(Via Esquire)