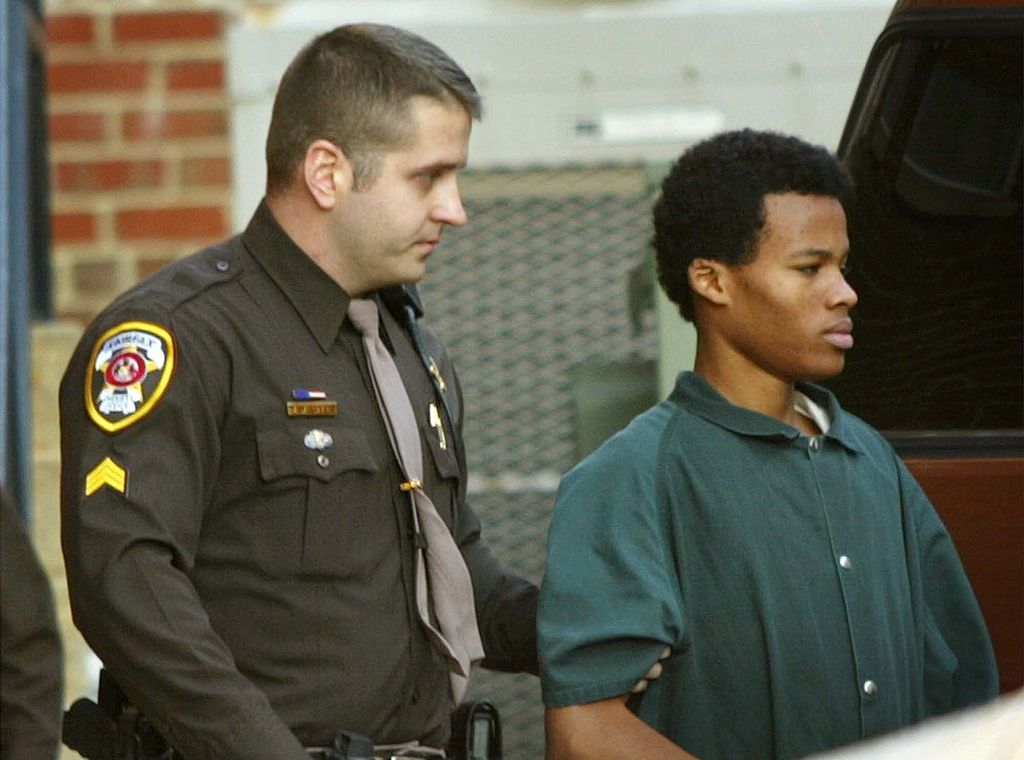 A federal judge in Virginia has shocked the families of the victims from the 2002 Washington-area sniper spree by throwing out two life sentence convictions for Lee Boyd Malvo, the 17-year-old son of John Allen Muhammad, who was executed in 2009 for the same crimes. On Friday, US District Court Judge Raymond Jackson ruled that the convictions be thrown out and that the case should be sent back to state courts in Chesapeake and Spotsylvania County in Virginia for re-sentencing. The verdict comes as Malvo's lawyers had argued their client — who has already been behind bars for 15 years — should be re-sentenced following a U.S. Supreme Court ruling that called mandatory life sentences for juveniles are unconstitutional. Lawyers argued that Malvo was unaware of his rights at the time he accepted a plea deal, including a guilty plea in the death of an FBI analyst shot in the head during the killing spree.
Malvo could still receive multiple life sentences for his crimes, but the decision came as a shock to the families of his victims that have since moved on. Cheryll Shaw, the daughter of Jerry Taylor, a man shot and killed by Malvo in Tucson, Arizona before the infamous Washington killing spree took place, is among those dumbfounded at the ruling, ABC News reports:
"I was at peace knowing Muhammad was executed and Malvo was serving life without parole. … I was able to move on with my life," Taylor said. "But if he's going to be let out in my lifetime, I'm not comfortable with that."
Bob Meyers, the brother of Dean Meyers, a man killed in the Washington area by Malvo and Muhammed, exhibited a different tone and expressed his trust in the system, saying he expects the new sentence expects to take into account the same things the original ones did according to International Business Times:
"We will trust the people who are making these decisions know what they are doing and are not putting a monster on the street."
Ten people were murdered and an additional three were wounded during the October 2002 serial killing spree Malvo and Muhammed used to terrorize the country and paralyze the DC area. The shootings took place from the modified trunk of their Chevrolet Caprice, allowing them to kill their victims and flee the scene instantly.
(Via ABC News and International Business Times)