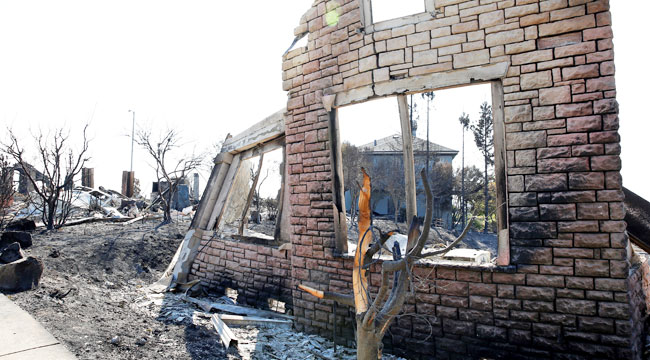 Although media coverage of the Northern California wildfires has taken a backseat to other stories as the week has progressed, infernos continue to level entire neighborhoods (as shown in the above photo, taken in Santa Rosa). To date, over 20 fires have destroyed at least 3,500 homes while leaving hundreds still missing. And with an official death toll of 31, this fire outbreak is now considered the deadliest in the state's history. The previous record was held by the 1991 fire in Oakland Hills, which killed 25 people.
Fire crews and rescue workers, some of whom have been photographed on the ground in exhausted states, will see no relief from the weather until at least next week when temperatures could cool. Until then, things will remain rough. The Diablo winds are expected to pick up this weekend, and low humidity means that the fires will stay largely uncontained.
CNN reports that over 8,000 firefighters are currently working to hinder further progress of the infernos. Meanwhile, workers have made grim discoveries of charred bodies and bones within the at least 191,000 acres that have burned thus far. This USA Today video shows drone footage of communities that have been reduced to ashes, a sight that's now occurring throughout several counties.
Melted cars. Mangled homes. Shocking drone footage shows communities of ashes created by California wildfires. https://t.co/kKWD4eTqal pic.twitter.com/P6It54dFgr

— USA TODAY (@USATODAY) October 13, 2017
CNN published this video of a tree burning from within.
A man fleeing from the California wildfires stopped to take video of this tree full of fire https://t.co/2EufvPnAGb pic.twitter.com/bQQaxs51WX

— CNN (@CNN) October 13, 2017
This auto-updating Google map shows the current location of the fires that shall continue all weekend.