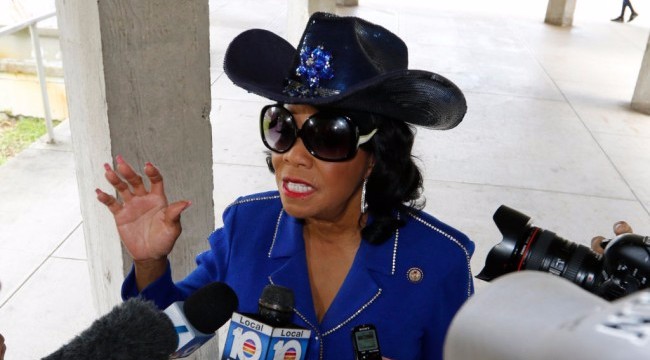 Florida Congresswoman Frederica Wilson made a lot of headlines in October while feuding with President Trump over how he handled a condolence call with the widow of a soldier killed during an ambush in Niger. Rep. Wilson is bound for another spin in the news cycle after a white Virginia sheriff's deputy was caught wearing blackface as part of a Halloween costume that saw her dressed as the legislator.
The Washington Post reports that deputy Jean Browning, a 20-year veteran in southeast Virginia who has run the DARE anti-drug program at area schools for a decade, was photographed "wearing blackface, large glasses and a red hat similar to Wilson's signature hat" with her boyfriend who wore a Donald Trump costume.
After the local NAACP chapter brought the photo to Sheriff J.D. Diggs's attention, who asked the group for suggestions for how to handle the situation. "It is inappropriate and disheartening when anyone mocks someone's race," the NAACP said in a statement, "but it is inexcusable when someone connected with our law enforcement finds it acceptable to paint their face to impersonate African-Americans."
The sheriff had more to say on the matter:
Diggs said he was surprised to receive the NAACP statement and disappointed that the group didn't meet with him again to discuss corrective actions. He said that the idea for the Halloween costumes "was to convey the message of how funny it would be for two political figures that were at odds with each other to go to a party together. There was no intent to either mock or degrade either Congresswoman Wilson or President Trump, or for that matter to even make any kind of political statement."
To assure the public that "the Sheriff's Office takes race relations seriously," Sheriff Diggs announced that Deputy Browning has been reassigned from her position working in local schools to an unspecified position within the department.
(Via Washington Post)