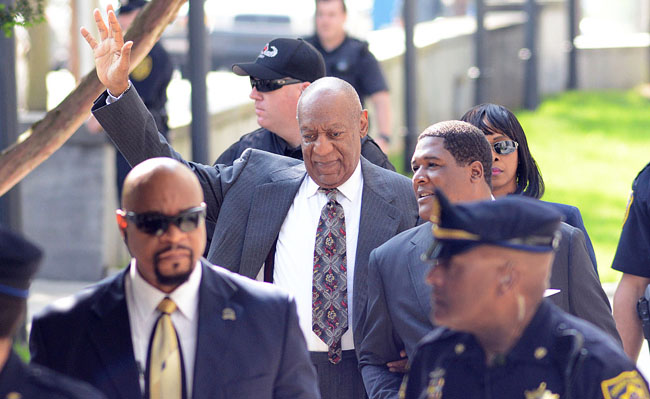 Bill Cosby returned to court Tuesday morning for the preliminary hearing in the criminal trial for the 2004 sexual assault of Andrea Constand, and things are not looking good for the once-beloved Cosby Show patriarch. Newly released court documents from Constand's civil suit back in 2005 and 2006 reveal a pattern of abuse we're all too familiar with thanks to the voices of Cosby's many accusers. And even worse, the documents state that Cosby was targeting teens, specifically.
According to the documents, at some point during Cosby's career, an unnamed modeling agency was providing him with "five or six" young women per week. These women would be sent directly to the studio he was shooting at. Under oath, Cosby admitted that he would give the ladies a "very, very good meal" in order to coerce them.
One horrible piece of evidence involved then 19-year-old model Therese Picking, who Cosby had to pay off through her agent at William Morris to keep the word from getting out to his wife in 1976.
"She became, in those days, what was called high," Cosby said. Constand's lawyer asked whether Serignese gave consent for sex.

"I don't know. How many years are we talking about? 197[6]?" he said. "I meet Ms. Picking in Las Vegas. She meets me backstage. I give her Quaaludes. We then have sex."
But perhaps the most damning testimony of all came from Cosby regarding the assault of Constand herself, an employee of Philadelphia's Temple University at the time, who he admits to giving pills to:
"I don't hear her say anything . . . And so I continue and I go into the area that is somewhere between permission and rejection," he said.
In another disgusting piece of testimony, Cosby described an 18-year-old woman who had come to his home in 2000 to discuss her acting career:
"On a later occasion, you had her masturbate you with lotion, did that ever happen?" Constand's lawyer asked. "Yes," he said.

"[She] used the lotion to rub your penis and make you ejaculate?" Cosby was asked. "Bingo," he replied.
Cosby faces up to 10 years in prison if found guilty of the criminal sexual assault charges against him.