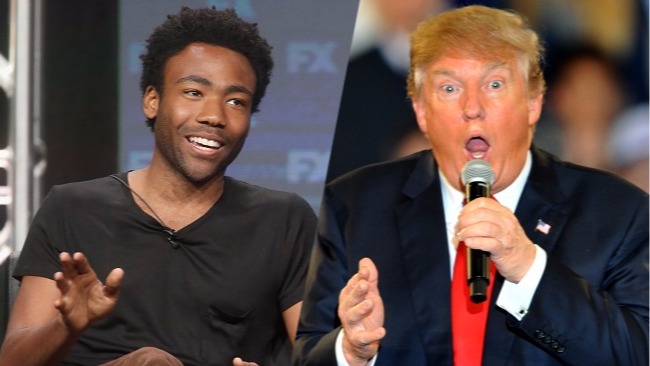 After months of speculation, Donald Glover's 2013 exit from Community was never to be undone — despite creator Dan Harmon's countless pleas. Troy (Glover) and Abed's (Danny Pudi) endless future together was never meant to be, as Glover decided to go off and pursue other projects. New creative explorations like writing music and releasing albums as the rapper Childish Gambino, and come September 6 on FX, the premiere of his new show Atlanta. Hence why Glover found himself fielding reporters' questions about Community at the Television Critics Association summer press tour on Tuesday.
Glover didn't seem to mind, however, as he relished the opportunity to explain why he ultimately decided never to return to Harmon's cult-favorite comedy. And while his answer offers an honest look into the actor's thought process, it also clued reporters in to his feelings regarding Republican nominee Donald Trump:
"I think everything should have death clauses in them… Humans have death clauses. Like, thank God, one day, [Donald] Trump is gonna die. That's guaranteed. That's awesome. It's important that things end. I'm glad things end because it forces things to progress. I get really frustrated in the world because I see a lot of things that could be better but aren't better because things haven't died yet."
If entropy has taught pre-Quantum Mechanics science students anything, it's that yes — everything in the universe eventually dies. So Glover isn't wrong about things having so-called "death clauses," or things having to have them, per se. So in in his eyes, Community's time was nigh and staying on for an additional season just wouldn't have been worth it.
As for his Trump jab, it joins a growing list of discontents unhappy with the New York real estate mogul's turbulent rise in the Republican party. Though it's probably the first one to mention the nominee's death — albeit in a hypothetical, presumably humorous, but otherwise awkward kind of way.
(Via TVLine)