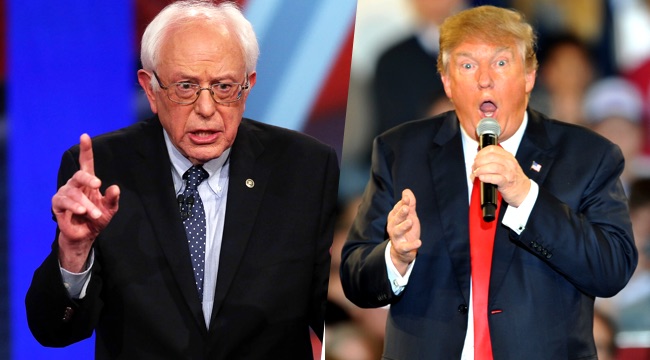 After a long haul in New Hampshire, the polls closed at 7:00pm EST. A few minutes later, CNN projects (along with the Associated Press) that Vermont Senator Bernie Sanders and real-estate mogul/reality star Donald Trump have won the state's primaries. A democratic socialist and a billionaire — who would have thought this outcome was possible only a few months ago?
The two Democrats came in with Sanders at 60% and Hillary Clinton at 38%. Clinton has reportedly phoned Sanders to concede New Hampshire. She also arrived for a speech, in which she promised to keep focusing on human rights. She also vowed to "push forward" and take the rest of the nation.
Sanders used his speech to thank Clinton and speak at length about the economy and healthcare. He also insisted, "we will destroy ISIS" in a manner that doesn't drop the military "in perpetual warfare." Sanders did not come off as complacent. He's ready to do further battle, defeat Clinton, and take the nomination.
Meanwhile, the battles for second and beyond in the GOP race were tight. Trump claimed 34% of the vote while John Kasich took second (with 16%), which sounds about right since Kasich focused so heavily on this state. Tying for third are Ted Cruz, Jeb Bush, and Marco Rubio with 11% apiece. Chris Christie followed with 8% while Carly Fiorina took 4%, and Ben Carson dragged with 2%.
So, we're looking at very different results than what happened at the Iowa caucus. There will be no coin tosses or slimy upsets this Tuesday night, so Donald Trump won't be waving a "loser" flag for a second week in a row. Trump's speech featured a promise to win everything and "build that wall."
John Kasich thanked his voters for taking him to a distant second place. He also spoke of conservative values and his all-feeling heart. Yeah, he rambled a lot, but this is Kasich's version of a moment. Good on ya, man.

Rubio's speech reflected the damage of his robotic week. He said, "Our disappointment tonight is not on you. It's on me. I did not do well on Saturday night. So listen to this, that will never happen again." Then — because he can't stop repeating himself — he tweeted the same words.
Hey, it looks like celebrations are about to begin at the Sanders party….
https://twitter.com/daveweigel/status/697227928623587328/photo/1
https://twitter.com/BernieSanders/status/697224625999253505/photo/1
(Via CNN)