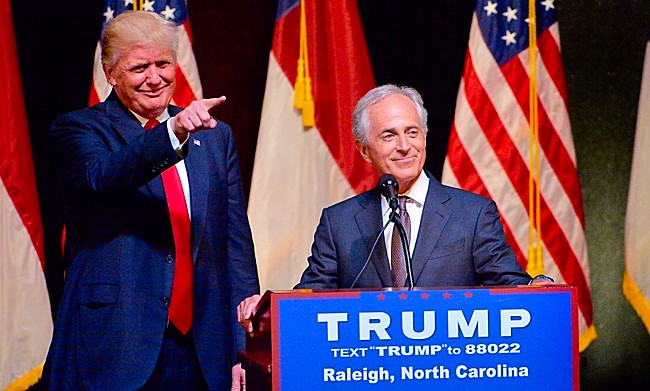 While Donald Trump's longtime feud with Sen. John McCain (R-Arizona) is alive and well, the president's more recent fight with outgoing Sen. Bob Corker (R-Tennessee) packs just as much of a punch. This seems especially true of Corker, whose recent decision to retire from public office has apparently emboldened the junior senator against Trump — along with the entire White House. Below you'll find an updated accounting of the two men's less-than-friendly interactions with each other, dating back to the time Corker refused to outright endorse Trump's candidacy.
May 16, 2017: After President Trump reportedly reveals classified intelligence obtained by Israel to Russian officials visiting the Oval Office, Corker and many of his colleagues on the Senate Foreign Relations Committee unleash their wrath. "They are in a downward spiral right now," he says of the White House. "There's a really good national security team in place… but the chaos that is being created by the lack of discipline is creating an environment that I think creates a worrisome environment."
August 17, 2017: Seeing as how Corker wasn't the only Republican politician to publicly condemn the intelligence leak in May, neither Trump nor the White House single him out in their responses. Everything changes in mid-August when, following the violence in Charlottesville, Virginia, Corker joined the chorus of GOP officials chastizing Trump's response — or lack thereof. "The President has not yet been able to demonstrate the stability nor some of the competence that he needs to demonstrate in order to be successful," he says in a video statement.
August 24, 2017: A week later, Corker's comments are used in a question for Sarah Sanders at the White House Press Briefing. "I think that's a ridiculous and outrageous claim," she says briefly, "and doesn't even require a response from this podium."
August 25, 2017: Perhaps because Corker's criticisms were directly addressed during the briefing, and therefore broadcast everywhere, Trump decides to respond the same way he does to almost everything else he sees on television — via Twitter. "Strange statement by Bob Corker," the president writes, "considering that he is constantly asking me whether or not he should run again in '18. Tennessee not happy!" When asked about Trump's spurious tweet by CNN, Corker says he "thought his tweet was fine" and notes they still have "multiple interactions."
September 11, 2017: Despite telling CNN he and Trump "spend a lot of time together" doing things like "[playing] golf" and "[talking] to me about being potentially vice president, secretary of state," many in the press assume tensions between Corker and the president are high. This is especially evident when, a few weeks after Trump's tweet suggesting the Tennessean senator might not run again in 2018, Corker reveals he's considering retirement altogether. "It's a tremendous privilege to do what I do, and to weigh in on the big issues," he says, "but I have not decided what I'm going to do in the future."
September 14, 2017: The day before Corker and Trump are scheduled to meet at the White House, the former insists their relationship "is very, very strong," adding: "We have a one-on-one private meeting tomorrow at 1 p.m. ET. For people to act as if there's daylight between us, that just is not true." Corker's remarks, given at a press conference, seem designed to finally squash any rumors pertaining to the seemingly distraught relationship the two men previously had.
September 15, 2017: After Corker and Trump conclude their meeting, the former's spokeperson says only that they had a "very productive one-on-one discussion." What's more, Corker's communications team adds, "Key members of the White House staff joined them to talk through a number of domestic and foreign policy issues. The conversations were wide ranging and extremely constructive. In all, they were together for well over an hour." The White House's account differs little from Corker's official statement.
September 26, 2017: After a month of speculation initially triggered by Trump's late-August tweet about Corker's 2018 indecision, the Tennessean senator announces he will not be seeking reelection. "After much thought, consideration and family discussion over the past year, Elizabeth and I have decided that I will leave the United States Senate when my term expires at the end of 2018," Corker says in a statement.
October 4, 2017: If anyone thought Corker's retirement signaled the end of his public feuding with Trump, they thought wrong. After all, without needing to seek approval from the White House nor the Republican establishment, the outgoing senator essentially let loose on the Trump administration. Speaking with reporters, Corker says, "Secretary Tillerson, Secretary Mattis, and Chief of Staff Kelly are those people that help separate our country from chaos, and I support them very much." When asked for his assessment of Trump and Tillerson's reportedly rocky relationship, Corker says, "[It's] in an incredibly frustrating place." He added, "[Tillerson] ends up being not being supported in the way I would hope a secretary of state would be supported."
There's bound to be more between Trump and Corker before the latter leaves office in 2018. Check back here for further updates.