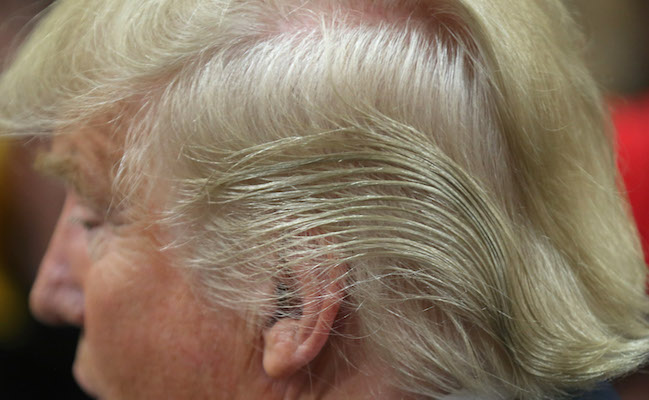 Who knew that the freedom of the press saga that has ensnared Gawker, Hulk Hogan and Silicon Valley billionaire Peter Thiel would also involve Donald Trump? Thiel, who financed Hogan's lawsuit that recently bankrupted Gawker, is apparently one of Trump's delegates for the Republican nomination for president. Now Hulk Hogan's lawyer is threatening a defamation lawsuit against the media company on behalf of a hair treatment clinic that was mentioned in an article about Donald Trump's hair.
According to the New York Times, Hogan lawyer Charles Harder (who also represents Thiel) sent a letter to Gawker last week with one big complaint — that the Trump hair article makes "numerous false and defamatory statements about my clients." Harder threatens legal action on behalf of haircare clinic Ivari International if the post isn't taken down with a public apology and retraction.
The Gawker article in question relies on an anonymous tip that Trump's iconic hair is the way it is because of something called "microcylinder intervention," a treatment apparently only performed by Ivari International, which is housed in Trump Tower in New York.
Gawker itself has published a refutation of Harder's claims of defamation, as well as the letter itself. For example, according to Gawker's rebuttal, Harder's claim that the location of Ivari International is as false and defamatory was an assertion made by Ivari himself in a brochure.
It's clear that the consequences that Gawker has paid for publishing Hulk Hogan's sex tape will probably extend beyond the $100 million in damages they currently have to pay for that lawsuit. Whatever the merits of a potential lawsuit about Donald Trump's hair care provider, there is a pattern at play here. Trump and his associates respond strongly when the press covers them unfavorably, like when the Washington Post used a headline that Trump didn't like. In addition, Peter Thiel is said to have paid Charles Harder to sue Gawker on Hulk Hogan's behalf, because he's upset that the website outed him. Who knows what could happen to the next outlet that gets on their bad side?
(via New York Times)