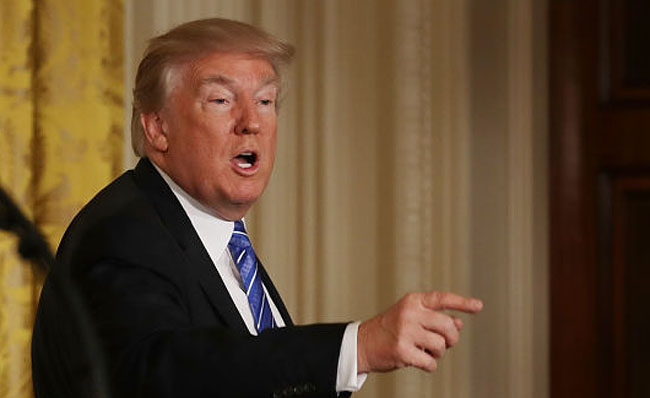 The more Donald Trump rants about Morning Joe co-hosts Joe Scarborough and Mika Brzezinski, the more he pulls the curtain back on his inner workings. Trump's latest tweet about the pair is brief, but offers up a wealth of insight into his obsession with cable news, tabloid media, and the war between the President's ego and the press. This time he's displeased not only with "psycho Joe" and "low IQ Mika," he's set his sights on MSNBC, too.
Trump tweeted about the cable news channel on Saturday morning, continuing on about Morning Joe's allegedly low ratings, reiterating some insults about Scarborough and Brzezinski's intelligence and mental health, and asserting that the show is "dominated by their NBC bosses." That comment tied in to another tweet he made earlier that morning, claiming that Greta Van Susteren was dropped from her slot as an MSNBC anchor because she "she refused to go along w/ 'Trump hate!'" But that's not exactly the whole story.
Susteren had worked as MSNBC for only five months after being let go from Fox News last year, but her ratings weren't doing particularly well. She was a liability to MSNBC's sudden opportunity to really compete with Fox News, thanks to the high-profile shakeups at the conservative network in the past year. Morning Joe, on the other hand attracted an average of 997,000 total viewers in the second quarter, and has been on a steady ratings rise over the past nine quarters. When President Trump complains about the ratings Scarborough and Brzezinski are pulling in, its a deflection away from the more probable reason Susteren was let go.
Trump claims that MSNBC is trying to in some way weaponize Morning Joe again him, but actually the president showed his hand when it came to a National Enquirer story that attempted to smear Scarborough and Brzezinski. In a tweet, he seemed to suggest that he had editorial pull with the Enquirer, which is run by a friend and supporter. Shortly afterwards, the Enquirer ran a piece that attempted to dust up a scandal around the Morning Joe hosts, suggesting it might have been done at Trump's behest, or at least in support of his recent tweets.
The Enquirer isn't the only fan of Trump's twitter attacks, though. Trump campaign manager Corey Lewandowski had nothing but praise for his former boss' take, stating "If I had his vicious wit and his ability to tweet things out like that and destroy my enemies, I probably would do it too." Lewandowski also called the President "the Ernest Hemingway of Twitter." It's not quite clear what Lewandowski meant by that. Is it the misogynistic overtones? The obsession with traditional masculinity? Or is it the way the President's tweets are succinct yet revealing, saying so much in so few characters.
(Via: CNN, the New York Times, Mediaite)