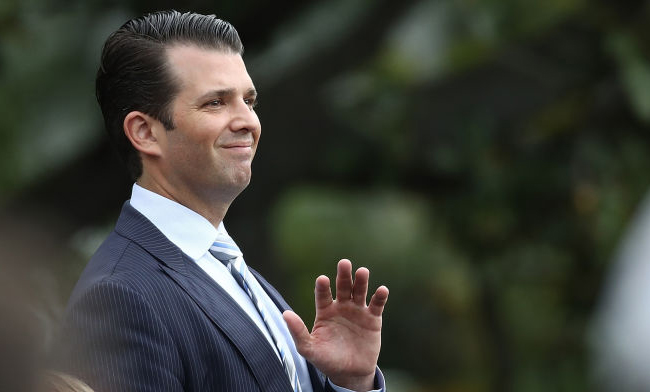 According to a new report from the New York Times, Donald Trump Jr. was informed via email that the potentially compromising information about Democratic Presidential candidate Hillary Clinton he would be receiving from a Russian lawyer was in an effort by the Russian government to help his father win the election. The Times says three people have confirmed the contents of this email.
In a written response to the New York Times on Monday, Trump Jr.'s lawyer, Alan Futerfas, wrote the following in defense of his client:
"In my view, this is much ado about nothing. During this busy period, Robert Goldstone contacted Don Jr. in an email and suggested that people had information concerning alleged wrongdoing by Democratic Party front-runner, Hillary Clinton, in her dealings with Russia. Don Jr.'s takeaway from this communication was that someone had information potentially helpful to the campaign and it was coming from someone he knew. Don Jr. had no knowledge as to what specific information, if any, would be discussed.
The email in question was sent to Don Jr. by former British tabloid reporter Rob Goldstone, who helped arrange the 2016 meeting. The New York Times said the letter was described to them by three different parties, all claiming that the email stated the so-called damaging Clinton information was coming from the Russian government.
As the Times points out, then Trump campaign chairman Paul Manafort and Jared Kushner were at the New York meetings as well as Junior.
(Via the New York Times)