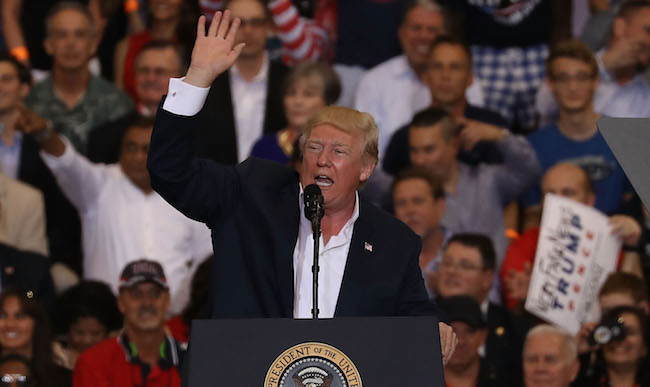 President Donald Trump has chosen what he'd like to do instead of attend the White House Correspondents' Association dinner. The answer? He'd prefer to go to a Trump Rally, thanks. He's quite found of them.
Trump, who has a hostile relationship with news providers with names that don't end in "& Friends," is going to be holding a "BIG rally in Pennsylvania" next Saturday. The president shared the news via tweet.
https://twitter.com/realDonaldTrump/status/855816071663812608
So instead of D.C.'s "Nerd Prom" or bunkering down deep at his Mar-a-Lago estate, Trump's major outing on his milestone 100th day as President is to hold a rally at Harrisburg;s Pennsylvania Farm Show Complex. Skipping the event makes Trump the first president since Reagan to ditch the White House Correspondents' Association dinner. Reagan missed the event in 1981 due to the whole recently being shot in the chest thing.
The Washington Hilton will still host to the black-tie event on April 29. The absence of Trump is expected to be matched with the absence of his White House staff. Considering Trump's unhidden desire to be seen as a winner and a star, you might imagine he'd be into the hobnobbing with celebrities at a high-profile dinner event. Well, his Correspondents' Dinner experience in 2011 should explain why the 2017 edition might not be his cup of tea.
(Via New York Times)