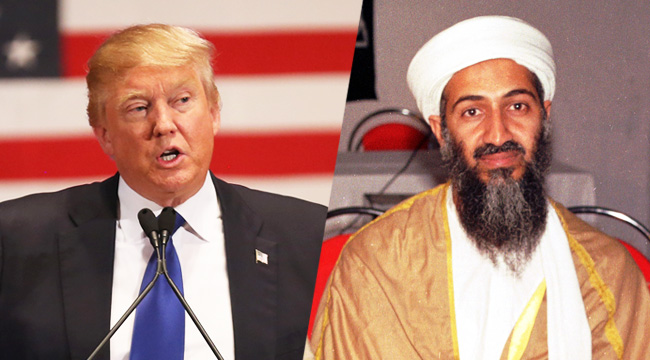 Donald Trump has somehow topped himself during a Thursday discussion in Cleveland. Trump has been sort of hitting hard in the foreign policy department lately. Or at least, he's claiming to do so without even holding an attack plan against ISIS (although he previously claimed to know more than military generals on the subject). Trump's now reportedly claiming that he could have stopped a major terror attack before it happened. Perhaps this is part of his plan to look tougher on terrorism?
Reporter Katherine Krueger of Talking Points Memo was one of the first to tweet news of Trump's latest outrageous claim. He reportedly set about lambasting the "terribly dishonest" media, and then he shifted the subject by claiming he could have stopped Osama bin Laden long before the 9/11 terror attacks on America. "I would've been tougher on terrorism," Trump boasted. "Bin Laden would've been caught a long time ago, before he was ultimately caught, prior to the downing of the World Trade Center."
All of this was tied to Trump falsely claiming (once again) that he opposed the war in Iraq. He last uttered this declaration at Wednesday night's NBC Commander-In-Chief Forum, but this is an ongoing theme for Trump. These claims have been proven false, and the Howard Stern interview transcripts in which Trump supported the invasion have surfaced on BuzzFeed, but this hasn't stopped Trump from repeating himself.
(Via Talking Points Memo)