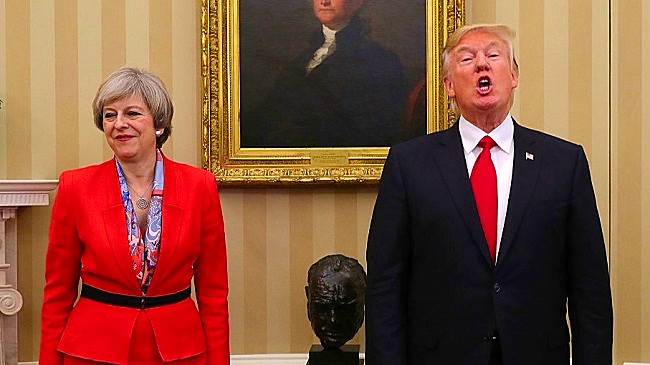 In a new Bloomberg profile of the awkward political relationship between Donald Trump and Theresa May, it seems the British prime minister can't catch a break (or a few minutes) whenever she's on the phone with her American counterpart. That's because President Trump — who's previous telephone conversations with the Taiwanese president, the Australian prime minister, and a fallen soldier's widow have been everything but normal — apparently won't give May a chance to say anything.
According to the report, "May finds it almost impossible to make headway and get her points across" because "Trump totally dominates the discussion." As a result, the British prime minister generall has only "five or ten seconds to speak before he interrupts and launches into another monologue." Between the president's use of Twitter, his many off-the-cuff interviews with print journalists, and his bonkers press conferences, Bloomberg's description here doesn't sound all that surprising. Considering the longstanding importance of the American-British alliance, however, officials on both sides seem to be worried.
Consider what Chris Wilkins, May's former strategy director, said of Trump's belief that so-called "no-go" areas dominated by Muslims actually exist in and around London:
Trump turned to May and told her he believed there were parts of London that were effectively "no-go areas" due to the number of Islamic extremists. May chose to speak up to "correct him," Wilkins said.
Others recalled to Bloomberg the time when Trump openly complained about his treatment by the British press, and demanded May do something about it:
In one phone conversation during 2017, Trump complained to May over the criticism he'd been getting in British newspapers. Amid warnings that Trump would face protests in the streets when he arrived, he told the prime minister he would not be coming to the U.K. until she could promise him a warm welcome.

May responded to say such treatment was simply the way the British press operate, and there wasn't much she could do. In the secure bunker underneath the prime minister's office, her advisers listened in to the call in astonishment at Trump's demand.
Then again, who can blame him? The British press would probably pounce and ask Trump directly about his alleged affair with Stormy Daniels the first chance they got.
(Via Bloomberg)