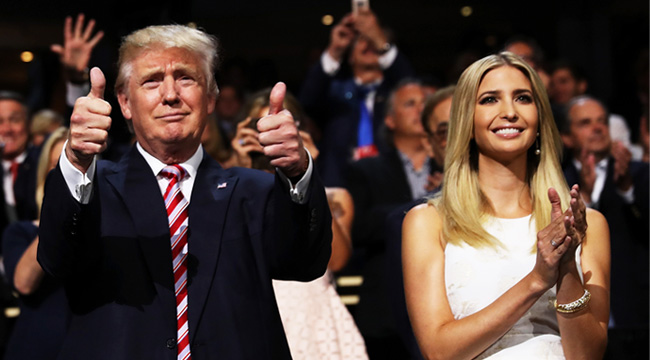 Donald Trump is set to unveil his new childcare policy proposal at a Tuesday night campaign rally in Pennsylvania, where he will appear alongside his daughter Ivanka.
The Republican presidential nominee will propose a series of federal childcare subsidies, including tax breaks, rebates, and tax-preferred savings accounts. He will also announce a plan to guarantee six weeks of paid maternity leave nationwide. (Clinton's medical leave plan promises 12 weeks.) According to the Washington Post, Ivanka collaborated closely on the policy proposals.
While the finer details of Trump's plan remain unclear in the hours leading up to his speech, it seems to be a naked attempt to win over women voters and swing voters in the contested state of Pennsylvania, where Clinton currently maintains a narrow lead. Overall, female voters are much more likely to support Clinton than Trump; NPR reported in May that the Trump-Clinton gender gap could be the largest in six decades. Clinton currently has a 15 point lead among female voters nationally.
Ivanka Trump spoke at the Republican National Convention in Cleveland on behalf of her father in July, where she gave a very Democratic-sounding speech. In her pitch, Ivanka promised her father would make sure that "women are paid equally for the work that we do, and when a woman becomes a mother, she is supported, not shut out."
(Via Wall Street Journal, Washington Post, & NPR)