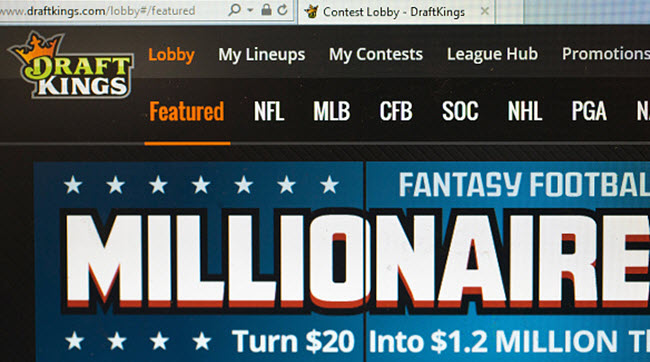 By now, everyone knows that daily fantasy sports' two biggest sites – FanDuel and DraftKings – bring in a whole hell of a lot of money. Now we have some clarity as to how much money the two sites bring in, and it may somehow be higher than any of us expected.
As part of the legal battle between the two sites and New York Attorney General Eric Schneiderman, the two sites have disclosed a ton of information regarding their finances. According to Deadspin, DraftKings processed at least $1 million in entry fees from all but 14 states, with California ($34,299,928), New York ($25,673,587), and Florida ($20,261,002) all eclipsing the $20 million barrier. This doesn't include Canada, which had nearly $12 million in entry fees. As for FanDuel, which isn't exactly strapped for cash, either – Schneiderman claims that it took in $31 million in entry fees from New Yorkers.
Also shady: FanDuel released its information on its employees using other daily fantasy sites. This has changed ever since one DraftKings employee won a ton of money on FanDuel and both sites banned employees from using and DFS sites, but still, these are something else. Via Deadspin:
Never be among the top five players by volume on any one site (based on site leaderboards). Never be among the top ten overall on the RotoGrinders leaderboard. Top players frequently become targets for accusations by other users.
Never account for more than 2% of entries in any tournament of more than 1,000 entries. Never account for more than 5% of entries in any tournament of more than 100 entries. Players who swamp big tournaments with entries frequently become targets of accusations.
Don't be the 2nd person into a head to head contest against the same opponent in more than one contest per day. This rule will greatly limit the ability to exploit information about user performance, and will also limit the likelihood of complaints from users.
There are plenty of other rules regarding things like giving people access to insider information, but basically, FanDuel's policy with regards to playing elsewhere was "feel free to play wherever you want, just don't be suspicious when you do it."
Nothing is guaranteed, but it's reasonable to think that more information regarding the internal practices of both sites could come out over the next few weeks. Hopefully everything that comes out is as interesting as these pieces of information.