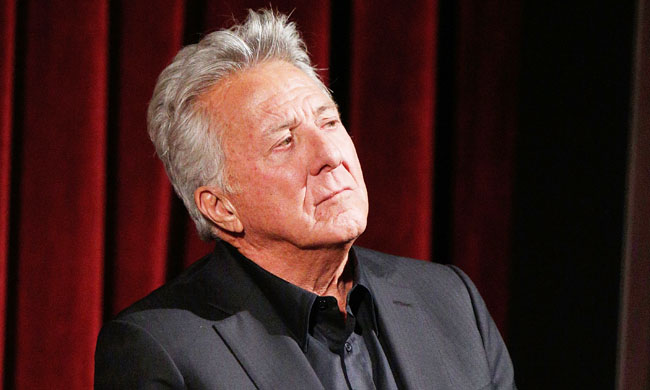 In early November, a woman named Anna Graham Hunter came forward with allegations that she had been sexually harassed by Dustin Hoffman as a 17-year-old intern while working on the 1985 TV film Death of a Salesman. Just a few days later, a second woman, writer and producer Wendy Riss Gatsiounis came forward with claims that Hoffman had acted unprofessionally to her in meetings to adapt her play into a film in 1991. Now a third woman has come forward with allegations against the actor, and sadly, her account seems to echo the stories of the first two women.
In a guest column for The Hollywood Reporter, actress Kathryn Rossetter recounts how Hoffman gave her a big break by hiring her to play the part of the "mistress" in the stage production of Death of a Salesman, which took place two years before the TV movie. Unfortunately her dream job turned into a nightmare, in what she describes as "a horrific, demoralizing and abusive experience at the hands (literally) of one of my acting idols."
Rossetter recalls Hoffman asking her to stop back at his hotel room during the first week or rehearsals, which she thought was odd given that he shared a home with his wife only about a mile away. There he removed his shirt and asked for a back rub, which she complied to, before retreating back to rehearsal. Things only got worse from there, as she describes Hoffman repeatedly groping her thigh in the flimsy slip her character wore while the two were confined to a small area just off stage waiting for their cue. Since she was wearing a hot mic, all Rossetter could do was attempt to swat his hand away.
One horrifying alleged incident she recalls however, is essentially tantamount to sexual assault.
One night in Chicago, I felt his hand up under my slip on the inside of my thighs. I was completely surprised and tried to bat him away while watching the stage for my cues. After the show he was busy with the producer and director so I had no access to him to address it. It then happened almost every show. Six to eight shows a week. I couldn't speak to him in the moment because I was on a live mic. He kept it up and got more and more aggressive. One night he actually started to stick his fingers inside me. Night after night I went home and cried. I withdrew and got depressed and did not have any good interpersonal relationships with the cast. How could the same man who fought to get me the job, who complimented my work, who essentially launched my career, who gave me the benefit of his wisdom as an actor, how could he also be this sexual power abuser? Was I doing something? Was it my fault?
Rossetter writes that Hoffman had a reputation for being a jokester," which is how he played off these occurrences. Such as his habit of quickly grabbing her breast whenever she had to pose for a photo with him, but just quick enough not to be caught on film. Except for one time when he did, which she provided to The Hollywood Reporter as evidence.
When grilled by John Oliver about sexual harassment allegations earlier this week, Hoffman responded in a rather hostile, unapologetic manner. His attitude seems even more questionable now that it might seem clear that these were not isolated incidents, but a habitual pattern of behavior.
(Via The Hollywood Reporter)