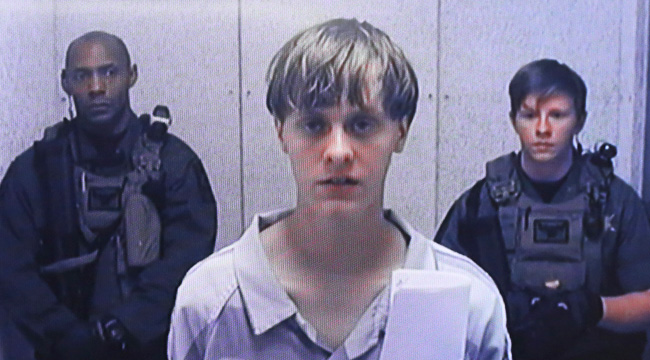 Last fall, prosecutors announced they would seek the death penalty for Dylann Roof, who allegedly killed nine people at a Charleston, South Carolina church after purchasing a gun through an FBI loophole. Authorities revealed their belief that Roof, who is white, was racially motivated to kill his black victims. An unearthed manifesto and personal photos appeared to confirm his white supremacist beliefs.
Federal prosecutors established how Roof researched many historically black churches before settling on his target. Indeed, the Mother Emanuel Church where the murders took place is steeped in civil rights history. Because of the massacre's racial and religious motivations, prosecutors chose to bring hate crime charges. Attorney General Loretta Lynch then opted to pursue the death penalty after federal prosecutors determined the killer in these crimes lacked remorse. Roof faces the death penalty on both state and federal murder charges. For now, his federal defense team challenges the constitutionality of the death penalty.
Roof's defense team argues that the death penalty itself is too "arbitrary" for two reasons: (1) The Federal Death Penalty Act's standards are too vague in defining what crimes are worthy of the death penalty and which ones are more fitting for a life sentence; (2) Juries and courts don't possess a uniform, unbiased way of interpreting these standards. Roof's team also sides with the death penalty being a "cruel and unusual punishment," which sets up more arguments for Fifth and Eighth Amendment violations. And the attorneys further stress the due process claims against such a severe punishment:
"The [Federal Death Penalty Act] may have been designed with as much care as possible under the circumstances, the capital sentencing process that the statute provides is constitutionally inadequate in practice. The results of jurors' good-faith grappling with the law — arbitrary, biased, and erroneous death verdicts — are intolerable as a matter of due process and proportional punishment."
Roof's defense team presented their arguments in a 40-page document and acknowledged that the case's facts are "indisputably grave," which partially reveals why the team wants to turn the death penalty on its head. Indeed, if the federal court agrees to drop the death penalty from Roof's case, his attorneys say he'll plead guilty to all charges and willingly accept multiple life sentences. This would guarantee that Roof would never leave prison.
Roof's federal trial will begin in November, while the state trial is scheduled for next January.
(Via CNN, ABC 4 News in Charleston & The State)