NOTE: Further updates can be found at the bottom of this post.
On Wednesday evening, an EgyptAir flight that took off from Paris (heading to Cairo) disappeared from radar. Immediate details were scarce, but the first indication that something was amiss came from a FlightRadar24 tweet, which reported that Flight 804 seemingly vanished over the Mediterranean Sea.
EgyptAir soon confirmed this terrible news on Twitter, which raised worldwide fears as the media scrambled to gather information.
Flight 804's missing status leaves the fate of 66 people in question. The airline issued a statement saying that the aircraft (an Airbus A320-232) had just entered Egyptian airspace — about 10 miles in at an altitude of 37,000 feet — when the radar disappearance occurred at around 2:45am Cairo local time. EgyptAir has established contact with authorities, and search and rescue teams have deployed.
During a live CNN report, Vice Chairman of EgyptAir Ahmed Adel revealed that the aircraft's pilot had 6000 flight hours. There were 53 adults, 2 infants, and 1 child on board with 3 security people present and no prior warnings of any special or dangerous cargo aboard. No Americans were aboard the flight, but EgyptAir released the nationalities of the passengers — 30 Egyptians, 15 French, 1 Belgian, and 1 Briton. The New York Times added a statement from the Egypt civil aviation service's Ehab Mohy el-Deen, who indicated, "They did not radio for help or lose altitude. They just vanished."
UPDATE – 1:15am EST: CNN indicates that Egypt officials believe Flight 804 has likely crashed into the Mediterranean Sea.
UPDATE – 7:30am EST: Although no debris from the aircraft has been recovered, French President Francois Hollande confirms that the plane has "crashed."
Greek Defense Minister Panos Kammenos adds that the aircraft fell 20,000 feet with "sudden swerves" before the signal was lost. CNN further details how the plane "swerved 90 degrees left and then 360 degrees to the right."
UPDATE – 8:30am EST: Egyptian air minister Sherif Fathy urged people to avoid speculation, and that the plane would be considered "missing" until wreckage was found. However, Fathy conceded that terrorism is a more likely cause than mechanical failure:
"If you analysis the situation properly the possibility of having a terror attack is higher than the possibility of having a technical [problem]."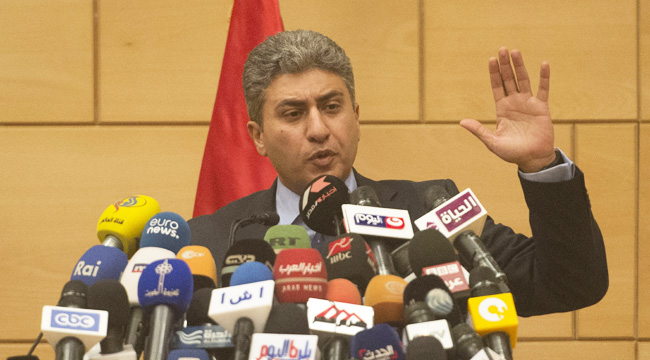 Reuters reports (via Greek state tv) that Greek authorities spotted a pair of floating objects, which could be Flight 804 debris, about 50 miles away from the island of Karpathos.
UPDATE – 9:30am EST: The Telegraph relays information from Saudi tv channel Al Arabiya, which reports that two bodies were found in the water near the search area.
Relatives of those on the flight gathered at the Cairo International Airport and were told to wait for phone updates.
Meanwhile, Donald Trump has already decided what happened to the aircraft.
UPDATE – 10:30am EST: While Greek authorities have confirmed the existence of Flight 804 debris in the Mediterranean Sea (south of Karpathos and Crete), they haven't released any photos of the site.
However, plenty of fake "evidence" stories are already circulating. One viral site posted a fireball video, which is not even close to real, and this fake photo of debris hails from the Ukraine.
UPDATE – 11:20am EST: A live CNN report says U.S. officials believe a bomb brought down the aircraft. Meanwhile, EgyptAir cannot confirm widespread reports that any debris has been found that conclusively belongs to Flight 804.
UPDATE – 12:24pm EST: CNN is reporting that, via a source at EgyptAir, wreckage has been located in the ocean. An EgyptAir confirnation follows as well.
UPDATE – 5:09pm EST: CNN executive editor Ram Ramgopal tweets that EgyptAir Vice Chairman Ahmed Adel has retracted the airline's claims of finding the wreckage: "We stand corrected on finding the wreckage because what we identified is not a part of our plane."
–
This story brings echoes of the recent disappearance of Malaysia Airlines Flight 370 in March 2014. After many months of conspiracy theories, debris from the plane including a flaperon — showed itself to civilization in August 2015, but the bulk of the aircraft was never recovered. And in November 2015, Russian Metrojet Flight 9268 disintegrated above the Sinai. 224 people perished with Russian later confirming that a bomb detonated on board. ISIS took credit for the incident with U.S. intelligence officials concluding it was likely that a group affiliated with the Islamic State was responsible.
(Via India Today, Sydney Morning Herald, NYT & CNN)