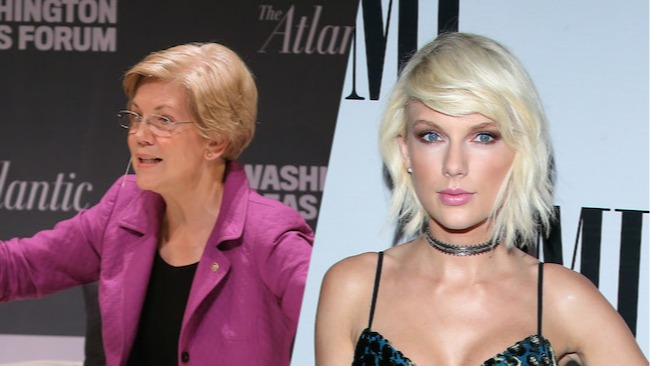 The Elizabeth Warren and Donald Trump feud continues. To recap, Warren tweeted a manifesto against Trump after he became the presumptive Republican nominee for president. Then she said she wouldn't let him bully her, after he responded by calling her "goofy," and questioning her Native American heritage.
Now in round three, Trump has referred to the Massachusetts senator as Pocahontas, and the senator is taking the high road by expertly using Taylor Swift lyrics. Here's how Trump brought up the Pocahontas jab in a New York Times interview with Maureen Dowd, published on Sunday:
When I asked if he had been chided by any Republicans for his Twitter feud with Elizabeth Warren, he replied, "You mean Pocahontas?"
Warren also mentioned Trump in a public forum this weekend, giving the commencement speech at Bridgewater State University on Saturday. Marveling at how her life has turned out, Warren actually mentioned that she never thought she'd get into a Twitter fight with Trump. As for Warren's attitude towards Trump's schoolyard tactics:
"As one of the great philosophers of our time has said, 'Haters going to hate, hate, hate hate, hate.' Knowing who you are helps you 'Shake It Off.'"
This is a smart way to pre-empt any lowest common denominator response that Trump has in the future. In fact, Warren said this the day before Trump's Pocahontas remarks became public. This is probably her answer for everything he says from now on.
And this is a perfect set-up for Taylor Swift to bring Warren out on stage during her next world tour.
(via New York Times and Huffington Post)