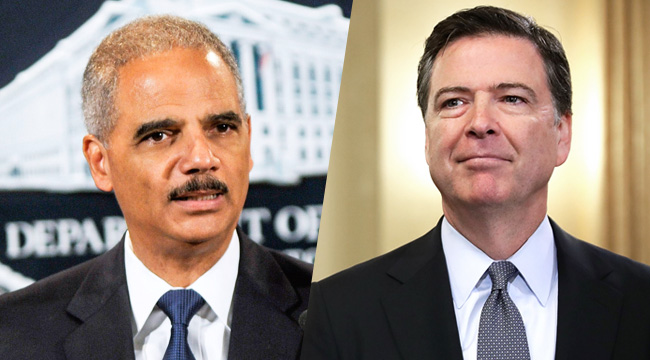 On Sunday night, former Attorney General Eric Holder joined the debate over FBI Director James Comey's decision to reopen a probe of Clinton-related emails less than two weeks before the election. This announcement arrived after FBI agents discovered potentially relevant emails on Anthony Weiner's laptop, which was used by Clinton aide Huma Abedin. The FBI will scrutinize the messages for classified information, although the bureau had no idea what the emails contained and only secured a warrant on Sunday night.
This renewed email investigation earned the disapproval of Holder. He issued an open letter in conjunction with nearly 100 other former Department of Justice officials and former federal prosecutors. The missive, which appears on Hillary Clinton's campaign site, condemns Comey's decision not to "refrain from commenting publicly on the existence, let alone the substance" of the investigation. There's also mention of how DOJ officials are "instructed to exercise heightened restraint" around elections to avoid the "appearance of political interference." The letter does expresses respect for Comey but communicates disbelief for his decision:
"Many of us have worked with Director Comey; all of us respect him. But his unprecedented decision to publicly comment on evidence in what may be an ongoing inquiry just eleven days before a presidential election leaves us both astonished and perplexed. We cannot recall a prior instance where a senior Justice Department official — Republican or Democrat — has, on the eve of a major election, issued a public statement where the mere disclosure of information may impact the election's outcome, yet the official acknowledges the information to be examined may not be significant or new."
In addition, Holder penned a late-Sunday op-ed in the Washington Post, in which he states extreme disapproval for Comey's "vague letter to Congress" regarding emails that could reveal nothing. Holder states that he's mindful of the "unique facts" of the FBI's July ruling, which led to Comey making a public declaration at the time (he recommended that no charges be filed by the DOJ while calling Clinton "extremely careless"). Yet Holder calls Comey's public treatment of the case (which has grown even more so now) a "stunning breach of protocol" that sets a troubling precedent.
The rest of Holder's WaPo op-ed treads the same ground as the above open letter, but the ending calls for a correction:
"I served with Jim Comey and I know him well. This is a very difficult piece for me to write. He is a man of integrity and honor. I respect him. But good men make mistakes. In this instance, he has committed a serious error with potentially severe implications. It is incumbent upon him — or the leadership of the department — to dispel the uncertainty he has created before Election Day. It is up to the director to correct his mistake — not for the sake of a political candidate or campaign but in order to protect our system of justice and best serve the American people."
Holder calls upon Comey to "correct his mistake," though some damage may already be done. And given that the Wall Street Journal reports that up to 650,000 messages from Weiner's laptop will be examined in this new probe (some possibly related to Abedin's work, and some that could be duplicates), a swift resolution doesn't seem possible, especially prior to Election Day.
(Via HillaryClinton.com, Washington Post & Wall Street Journal)