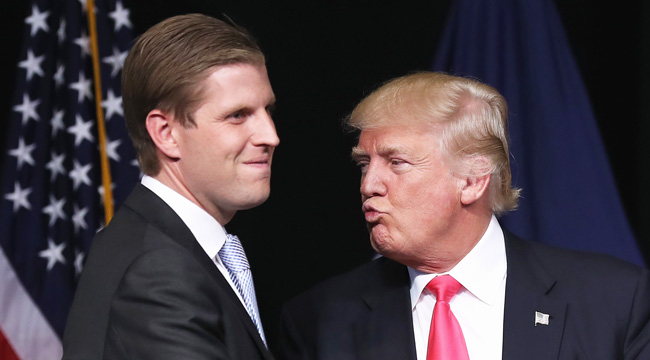 The Senate hearings on Trump-Russia ties will heat up on Monday with face time from former Deputy Attorney General Sally Yates. She will reportedly testify that she delivered a "forceful warning" to the Trump administration about Michael Flynn's vulnerability to Russian blackmail. As a warmup to this testimony, an unexpected source — a golf writer named James Dodson — has revealed that Eric Trump boasted in 2014 about how Trump golf courses were booming due to plentiful Russian funding.
Golf and Russia usually aren't two subjects that arrive in close proximity. The sport does exist there but (obviously) isn't as widespread due to not-exactly-optimal weather conditions. Yet Russian banks appear to be interested in funding worldwide courses, according to this writer, who quizzed Eric about why the Trump golf brand seemed invulnerable to the Great Recession. Here's what Dodson told Boston's WBUR radio station:
"I said, 'Eric, who's funding? I know no banks — because of the recession, the Great Recession — have touched a golf course. You know, no one's funding any kind of golf construction. It's dead in the water the last four or five years."

"And this is what he said. He said, 'Well, we don't rely on American banks. We have all the funding we need out of Russia.' I said, 'Really?' And he said, 'Oh, yeah. We've got some guys that really, really love golf, and they're really invested in our programs. We just go there all the time.'"
Given the lengths that Vladimir Putin has gone to sway U.S. public opinion — reportedly enlisting a think tank along with a Russian oligarch and Paul Manafort to "advance his interests" — it's not inconceivable to think that some Russian banks would also be used to plant roots for the 2020 election.
If Dodson's account is true, Eric's remarks only reinforce Donald Trump Jr.'s 2008 comments about the Trump Organization's funding: "Russians make up a pretty disproportionate cross-section of a lot of our assets. We see a lot of money pouring in from Russia." None of this information, of course, indicates illegal behavior (U.S. banks are loathe to fund the Trump Org because of all of those failed ventures, so Trump has to find funding somewhere), but this provides more fodder for a decades-old romance between Trump and Russia.
(Via WBUR)