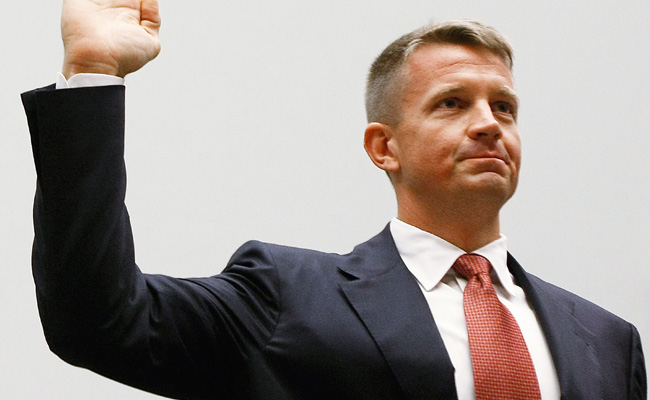 As late as last week, the Trump administration has claimed that Erik Prince, most notable for founding the mercenary firm Blackwater that had employees convicted of murdering innocent Iraqi civilians in 2007, had no role in the White House transition, despite repeated reports to the contrary. The denials came as it was revealed Prince had met with members of the Russian government in a secret meeting at the Seychelles organized by the United Arab Emirates. And, much like the Trump team has denied campaign manager Paul Manafort had anything to do with their campaign, it has been revealed that yes, Prince has advised the campaign.
The denials have always rung a bit false, as Prince is the brother of Education Secretary Betsy DeVos and donated heavily to the Trump campaign. But Bloomberg's reporting reveals just how much effort went into hiding Prince's connections to the Trump administration, ranging from sneaking into the back of Trump Tower to meeting officials on trains as if by chance:
In one informal discussion in late November, Prince spoke openly with two members of Trump's transition team on a train bound from New York to Washington. He boarded the same Acela as Kellyanne Conway and they sat together. Joining the conversation at one point was Kevin Harrington, a longtime associate of Trump adviser Peter Thiel who is now on the National Security Council. They discussed, in broad terms, major changes the incoming administration envisioned for the intelligence community, as recounted by a person on the train who overheard their conversation.
Sources in the Bloomberg article claim that Prince has since lost access to Trump, as his greatest ally was former National Security Adviser Michael Flynn, who resigned in disgrace and has since attempted to secure immunity in exchange for testimony. However, Prince also has connections to White House strategist Steve Bannon, and the investigation into Trump's ties with Russia remains ongoing. So, Prince may not be out of the legal woods just yet.
(via Bloomberg)