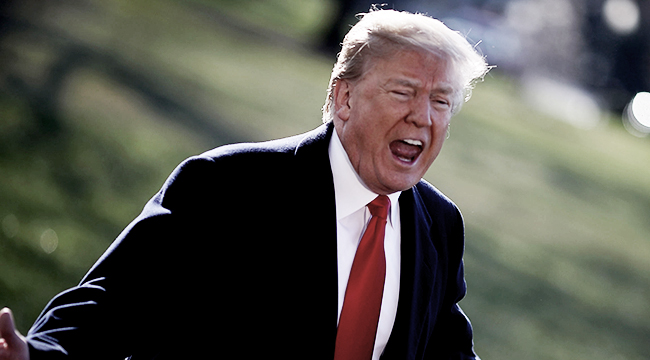 The White House's revolving door for high-ranking staffers has grown so notorious that President Trump's staunchest allies can't defend the chaos. Although Donald Trump rose to reality-show infamy by firing people on The Apprentice, the trend has become an embarrassing one. In early March, the Washington Post reported that the Trump administration's turnover rate sits at a stunning 43 percent — the highest seen in D.C. in over four decades — and that statistic has further risen after only a few more days.
In an effort to chronicle the madness, here's a chronological listing of the major departures, whether by firing, resignation, or otherwise … so far:
Sally Yates – Jan. 30, 2017: Trump fired the acting attorney general, who was appointed by Obama, after she directed the Justice Department not to defend the president's first travel ban on citizens from seven Muslim-majority countries.
Michael Flynn – Feb. 13, 2017: Trump's first national security advisor resigned after mounting reports that he was vulnerable to Russian blackmail. Flynn has since worked out a sweetheart deal with Special Counsel Robert Mueller and pleaded guilty only to lying to the FBI, despite a wealth of other alleged offenses like lobbying for Turkey during the U.S. election.
Preet Bharara – March 11, 2017: Although Trump had previously requested that the U.S. attorney for the Southern District of Manhattan stay in his position, he was fired, along with several of his colleagues, after refusing to submit his resignation to Attorney General Jeff Sessions.
Katie Walsh – March 30, 2017: The deputy chief of staff departed amid a shakeup, choosing to become an advisor for the Republican National Committee and a pro-Trump super PAC, America First Policies.
K.T. McFarland – April 9, 2017: The deputy national security advisor left her post after reportedly being asked to do so and subsequently became the U.S. ambassador to Singapore.
Angella Reid – May 5, 2017: The first female White House chief usher was dismissed for reasons that seemed unclear to her at the time, although Axios reports that she was "considered mean" by staffers.
James Comey – May 9, 2017: Trump axed the beloved FBI director in an announcement so shocking that Comey thought that television reports of his firing were a joke. It was later revealed that Trump pressured Comey to kill the federal investigation into "good guy" Michael Flynn, although Comey's firing was initially framed as a response to how he handled the Clinton email probe.
Mike Dubke – May 18, 2017: Trump's very first White House communications director resigned amid rumors of an impending staff "shakeup." Indeed, that shakeup hasn't stopped yet.

Walter Shaub – July 6, 2017: The government's lead ethics watchdog resigned after several clashes with members of the administration and the president. Shaub stated at the time, "There isn't much more I could accomplish at the Office of Government Ethics, given the current situation."
Mark Corallo – July 20, 2017: Trump's legal team spokesperson resigned amid his frustrations on how to property defend the president against Robert Mueller's probe — all while apparently having never met Trump or his attorney, Marc Kasowitz.
Ezra Cohen-Watnick – Aug. 2, 2017: The senior director of the National Security Director (and the CIA's liaison to the White House) was ousted by General H.R. McMaster in an apparent attempt to clear out appointees of Michael Flynn. Cohen-Watnick was shuffled to another position within the administration.
Sean Spicer – July 21, 2017: Trump's first press secretary seemed to strongly dislike his job from the very beginning and was even discovered hiding in the bushes to avoid questions about other staffers' firings. Shortly after he bolted from a press briefing, he resigned after being passed over in favor of Anthony Scaramucci.
Michael Short – July 25, 2017: Following Anthony Scaramucci's claims that he would fire the senior assistant press secretary (while accusing him of leaking to reporters), Short resigned, "effective immediately."
Reince Priebus – July 28, 2017: After also being declared a marked man (i.e., a "leaker") by Anthony Scaramucci, Priebus was appraised of his firing when Trump announced his replacement, John Kelly. He also reportedly was forced to depart in an Uber without access to his office files out of fear that he'd keep on (allegedly) leaking.
Anthony Scaramucci – July 31, 2017: The Mooch's tour of White House terror lasted for ten full days, during which he threatened to have several people fired and gave countless rip-roaring television appearances. The highlights of his controversial stint included a wide-ranging interview with the New Yorker, which published his obscene comments about Steve Bannon ("I'm not trying to suck my own c*ck") and Priebus ("Reince is a f*cking paranoid schizophrenic, a paranoiac"). The Mooch did not go quietly.
Steve Bannon – Aug. 18, 2017: The controversial, proud nationalistic chief strategist weathered multiple rounds of ousting rumors while wielding a great level of influence on Trump. SNL even cast Bannon as the Grim Reaper, who manipulated all behind-the-scenes matters, but Trump inevitably pushed him out to pasture after several ominous hints on the subject.
Carl Icahn – Aug. 20, 2017: The billionaire Trump advisor cited an alleged conflict of interest while resigning from his role. He recently denied insider trading after suspiciously dumping $31 million in steel shares ahead of Trump's tariff announcement.
Sebastian Gorka – Aug. 25, 2017: The ultra-right-wing deputy assistant to the president resigned with a scathing letter that criticized the Trump administration's direction, particularly regarding a recent speech made by Trump on expanding the war in Afghanistan.

Tom Price – Sept. 29, 2017: The Health Secretary resigned after Trump declared that he was "not happy" over mounting controversy over Price spending $400,000 on private jets for government business (mixed with some private use) on the taxpayer's dime.
Dina Powell – Dec. 8, 2017: Trump's deputy national security advisor resigned without fanfare after helping to implement Trump's Middle East policy, including his insistence upon moving the U.S. embassy in Israel to Jerusalem, which was almost universally condemned during a U.N. vote.
Omarosa Manigault – Dec. 13, 2017: The former Apprentice villainess was reportedly escorted off White House grounds while being fired over her drama. She later claimed to have resigned and went on to whisper loudly on Big Brother over fears that Trump's tweets will destroy us all.
Rick Dearborn – Dec. 20, 2017: The deputy White House chief of staff announced his departure after weeks of rumors. Dearborn is now working in the private sector.
Andrew McCabe – Jan. 9, 2018: The FBI deputy director went on permanent leave a few months ahead of his planned retirement. His departure followed months of needling from Trump, including how the president reportedly told McCabe to ask his wife "how it feels to be a loser." [UPDATE: McCabe's leave was preemptively cut short by Trump (on March 16) when he fired him mere days before his pension was due to kick in.]
Rob Porter – Feb. 7, 2018: The White House staff secretary suddenly resigned over a domestic abuse scandal that went public. This launched weeks of controversy over Chief of Staff John Kelly's handling of the situation, including when he knew of the disturbing allegations against Porter.
David Sorensen – Feb. 9, 2018 : The White House speechwriter became the second Trump administration official to resign over domestic abuse allegations. Sorenson departed shortly after Rob Porter's exit.
Rachel Brand – Feb. 10, 2018: As the third-ranking official in the Justice Department's Russia probe, Brand's departure could have wide-ranging effects on the future of Robert Mueller's investigation.
Josh Raffel – Feb. 27, 2018: The White House deputy communications director announced his impending departure from the job. Raffel didn't publicly state a reason for his departure, but Ivanka Trump announced that "the White House won't be the same without him."
Hope Hicks – Feb. 28, 2018: Trump's fourth communications director, who was seemingly his most loyal aide, submitted her resignation the day after testifying to the House Intelligence Committee behind closed doors over the Russia probe. In typical closed-lip fashion, Hicks only stated, "There are no words to adequately express my gratitude to President Trump."
Gary Cohn – March 6, 2018: Trump's head economic advisor, who helped him craft a tax overhaul, resigned amid word of an internal struggle over Trump's plans to levy heavy steel and aluminum tariffs, which many fear will ignite a trade war.
Rex Tillerson – March 13, 2018: The secretary of state was apparently "blindsided" while reading of his firing on Twitter after clashing with Trump on several foreign policy matters, including the treatment of North Korea. Tillerson's sudden departure, which Trump stated was in the works for some time, also arrived the day after he contradicted the White House by holding Russia accountable for the poisoning of an ex-spy in the U.K.
Steve Goldstein – March 13, 2018: The White House fired the top State Department aide after he issued a remarkable statement that revealed how surprised Tillerson was to be fired despite having "every intention of staying."
John McEntee – March 13, 2018: Amid continuing fallout of the Tillerson announcement, Trump's personal assistant was also fired and reportedly escorted out of the White House due to an "unspecified security issue," possibly in connection with some alleged financial shadiness. However, it was also revealed that McEntee had joined Trump's 2020 campaign staff.
James Schwab – March 13, 2018: The ICE spokesperson resigned because "he could no longer 'bear the burden' of spreading falsehoods on behalf of the Trump administration." Schwab's decision was made following Attorney General Jeff Sessions' lecture to law enforcement while announcing a federal lawsuit over California's sanctuary laws.
H.R. McMaster – March 22, 2018: Trump's second national security advisor resigned weeks after reports that he was next to go after repeated clashes with the president. McMaster's resignation was immediately followed by news of his replacement, John Bolton.
David Shulkin – March 28, 2018: Trump announced on Twitter that he was replacing the veteran affairs secretary with the presidential White House physician, Rear Admiral Ronny L. Jackson.
Michael Anton – April 8, 2018: The National Security Council spokesman announced that he's leaving his position for a college lecturing position. Reportedly, Anton felt the brunt of "McMaster's testy relationship with the president," although he thanked Trump for the opportunity of serving.
Tom Bossert – April 10, 2018: The homeland security advisor abruptly resigned from his position, reportedly after being "pushed out" by incoming National Security Advisor John Bolton.
We will continue to update this list over the coming weeks and months because, clearly, this trend won't be over anytime soon.