Seth MacFarlane and the folks at Family Guy have an interesting connection to the #MeToo movement and the Weinstein scandal. Not only did the moment above gain a lot of attention for "predicting" or shining a light on the Harvey Weinstein allegations, especially with MacFarlane's comment on the 2011 clip in October last year.
So really, it is only fitting that the show that launched him to success is now taking a victory lap of sorts with their push for this year's Emmy Awards. According to Deadline, the show's latest Emmy mailer is addressing this connection and the current events in Hollywood:
"We predicted Kevin Spacey and Harvey Weinstein. Open DVD to see who's next"
And apparently, when you open the DVD envelope, the joke is that there is a mirror inside. As Deadline says, it makes every Emmy voter a potential suspect. It's funny from the outside, but who knows if it will go over well with those who have been touched by sexual assault and harassment — or actually help reveal another guilty party.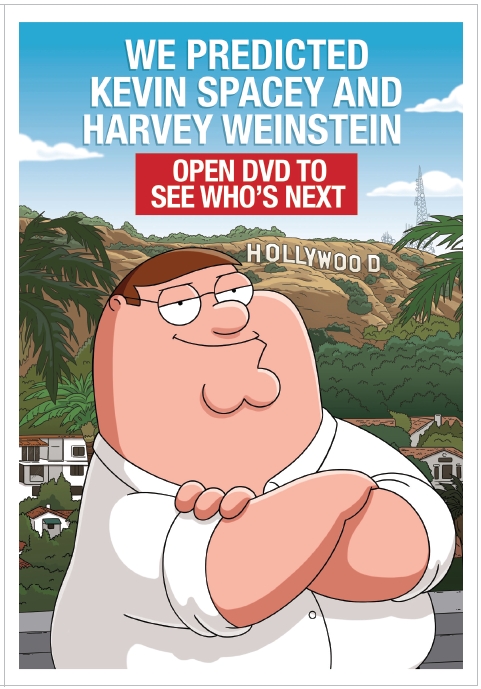 While the show never made a comment about Weinstein, they did drop a joke about Kevin Spacey based on the rumors about the actor. The scene, embedded below, came during season four of the show and over ten years before the actual allegations against Spacey went public. You have to think it is more about the show not having many filters as opposed to some sort of future sight on the side of the writing staff. It is still special but without the mystical qualities.
(Via Deadline)