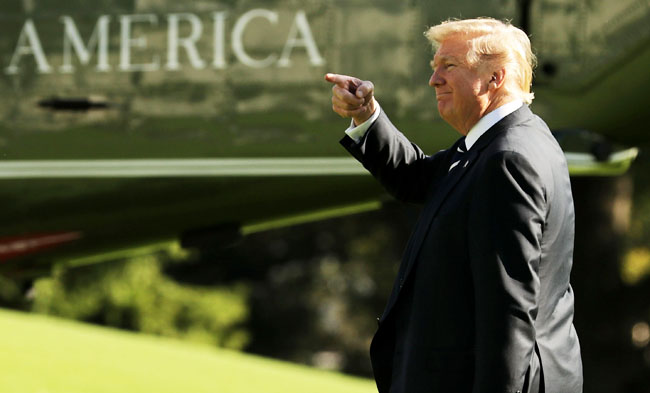 Like so many other aspects of his presidency, it looks as if Donald Trump's threats to revoke NBC's broadcast license were a bunch of hot air. The former NBC star lashed out at the network last week, after NBC News ran a report that Trump had allegedly inquired about increasing the United States nuclear arsenal "nearly tenfold" back in July, preceding Secretary of State Rex Tillerson supposedly calling him a "moron" and threatening to quit. The president later followed up on his threats by telling reporters, "frankly it's disgusting the way the press is able to write whatever they wanna write."
The chairman of the Federal Communications Commission (FCC) now says that this will unequivocally not happen on his watch, however. Ajit Pai, a Republican who was named to the FCC by Trump himself in January, gave a statement on Tuesday regarding the commission's position on revoking broadcast licenses.
"Under the law, the FCC does not have the authority to revoke a license of a broadcast station based on the content of a particular newscast," Pai said at a forum in Washington. "I believe in the First Amendment. The FCC under my leadership will stand for the First Amendment."

Pai was asked Tuesday if the FCC has any role in determining what constitutes "fake news." Pai said "traditionally that has not been within the FCC jurisdiction."
Sen. Brian Schatz (D-HI) later remarked that Pai's statement was "better than nothing," but "merely a reiteration of the FCC's authorities under the law." "What we needed is a full-throated defense of the independence of the FCC against political interference," he said.
At the very least it looks like the freedom of the press under the First Amendment to the Constitution is safe, for now, which is sadly once something we never thought we'd have to discuss in the year 2017.
(Via CNBC)