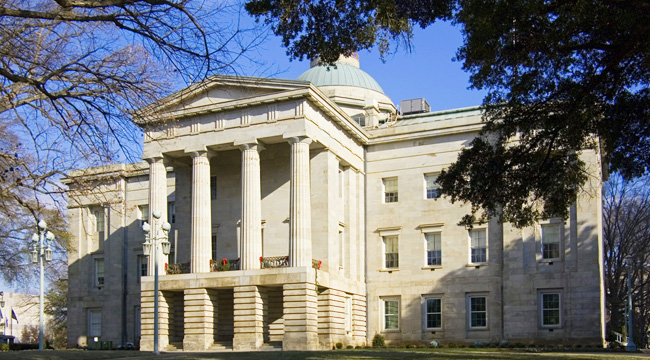 North Carolina's maintained a large presence in national news lately with the state's "discriminatory" voter ID law falling by the wayside. In addition, the state's anti-LGBT bathroom bill is also in the hands of a judge, but before that ruling comes down, a federal court ruling has struck down North Carolina's legislative districts as "racially gerrymandered."
The court's opinion is expansive and digs into the 28 state-level legislative districts, which minority voters alleged were unconstitutional. A three-judge panel found that "race was the predominant factor motivating the drawing of all challenged districts." Here's one of the key passages, which finds that the state's voting districts are discriminatory and must be withdrawn.
"Plaintiffs, and thousands of other North Carolina citizens, have suffered severe constitutional harms stemming from Defendant's creation of twenty-eight districts racially gerrymandered in violation of the Equal Protection Clause. These plaintiffs are entitled to swift injunctive relief … Thereby, we hereby order the North Carolina General Assembly to draw remedial districts in their next legislative session to correct the constitutional deficiencies in the Enacted Plans."
While this ruling will come at a great relief to the plaintiffs (and future generations) in this case, the court does acknowledge that redrawing these districts isn't a task that can happen immediately. So, all 2016 elections will proceed as planned, but hopefully the legislature will take this ruling seriously, as these districts have been redrawn on a previous occasion.
North Carolina Governor Pat McCrory is a fairly vocal leader, but he's yet to weigh in on this decision. If and when he does so, there may be awkward jokes or clarifications to be had. By the way, here's a map of one of the legislative districts in question.
(Via U.S. District Court for the Middle District of North Carolina & Slate)