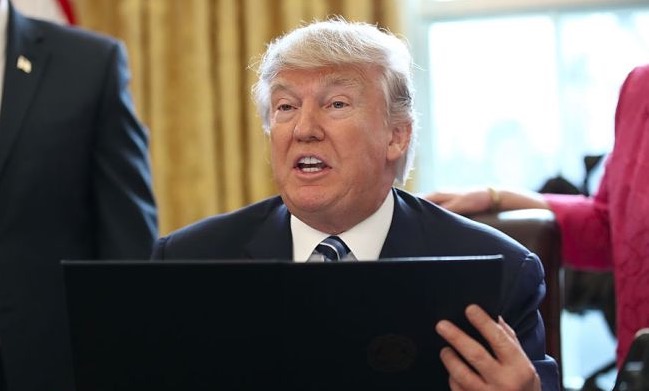 Michael Wolff's "burn book" Fire and Fury: Inside the Trump White House is, like, really entertaining and a very stable read. Highlights include Steve Bannon declaring Robert Mueller's investigation would "crack Don Junior like an egg," Steve Bannon calling the decision to meet with the Russian officials "treasonous," and President Trump saying Steve Bannon "lost his mind." Steve Bannon is the scene-stealing star of the thing, and it will be interesting to see which "disheveled drunk" will play him in the Fire and Fury television show.
(I wonder if Bill Murray is available?)
Endeavor Content (a production company owned by William Morris Endeavor and IMG that's also working on Michael B. Jordan's directorial debut) plans to turn the best-selling book into a scripted series. "The massive deal is said to be in the seven-figure range," according to The Hollywood Reporter. "A network is not yet attached, as Endeavor will now begin shopping the series."
Fire and Fury comes to the small screen after HBO canceled its a planned series based on the 2016 election in what was poised to be a Game Change sequel of sorts. HBO scrapped the project after sexual harassment allegations surrounding source material co-author Mark Halperin, who was poised to pen the script alongside John Heilemann. That opened the door for a Trump tell all, with demand high for Fire and Fury given Wolff's cinematic writing and fly-on-the-wall detail. (Via)
It will be the one non-CNN television show Trump doesn't watch.
(Via The Hollywood Reporter)