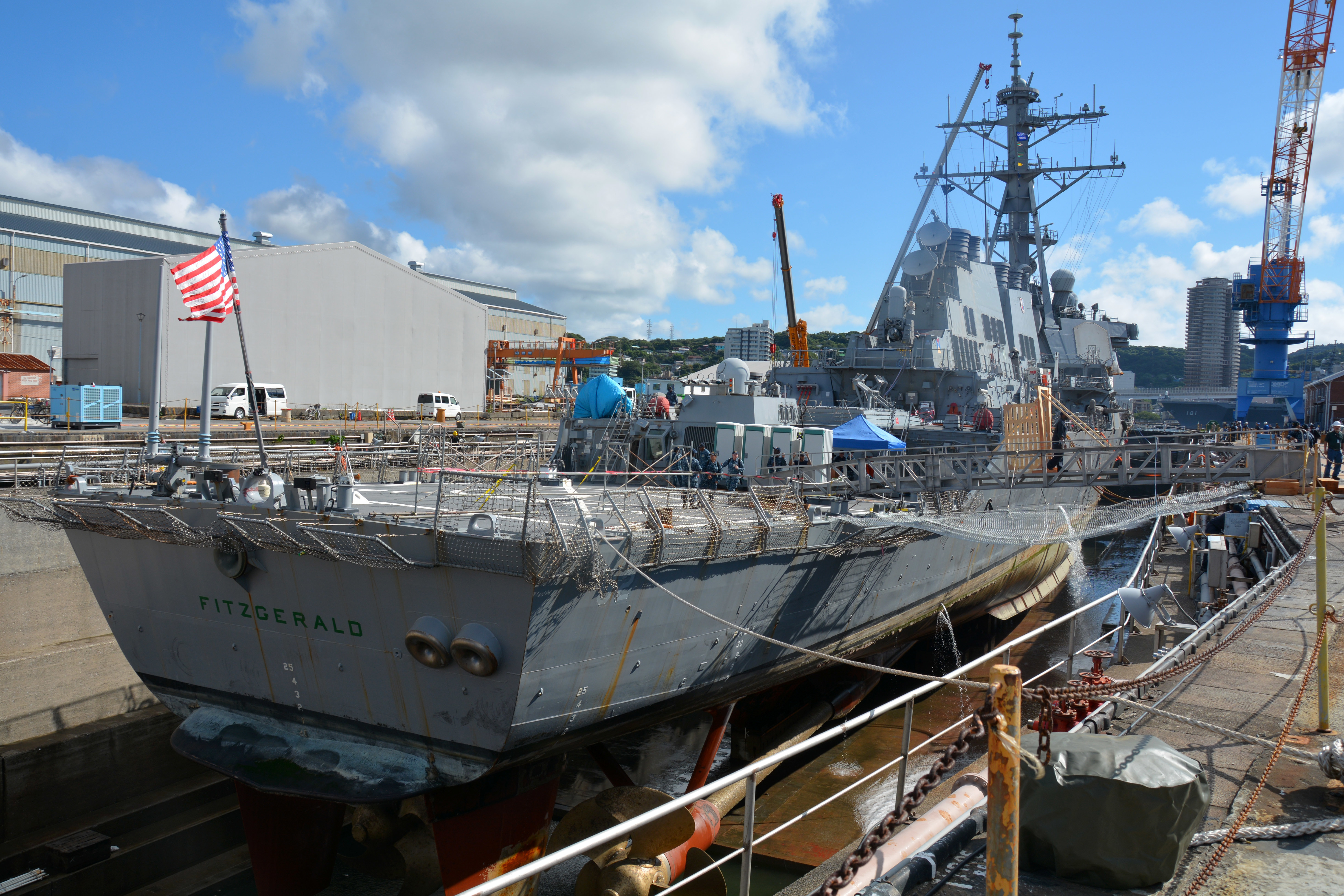 It's been a terrible year for the USS Fitzgerald. Seven sailors died earlier this year when the Fitzgerald collided with a Filipino cargo ship. It was slated to head back to the United States from Japan for repairs but was further damaged while the Navy was trying to load it onto a transport ship. Now the Fitzgerald has additional holes in the hull, and the Navy has additional questions to answer about the sudden spat of costly, deadly accidents this year. The Navy will have a lot more explaining to do on that front, but in the meantime has released a statement on what happened caused the latest damage:
"Fitzgerald returned to repair two punctures in her hull caused by the heavy lift vessel's steel support structure during on load at anchorage. Repairs are expected to extend the on load process by a few days, after which Transshelf will transport Fitzgerald to Huntington Ingalls Industries in Pascagoula, Mississippi, for further repairs and upgrades."
The damage is relatively minor compared to the serious mess made of the hull during the initial collision that resulted in multiple deaths. But the optics are especially bad, considering the Navy is still trying to explain why its ships keep crashing in the first place. The 7th Fleet is already trying to sort out what happened with a total of five major incidents that didn't even take place during combat. In addition to the Fitzgerald, the USS John S. McCain was damaged, and just last week, a naval plane crashed in the Philippine sea en route to the USS Ronald Reagan.
So far, the Navy pins the blame on how overextended its resources are — not only the ships but the schedules of its sailors. "The risks that were taken in the Western Pacific accumulated over time, and did so insidiously," said the report issued by the 7th Fleet. "The dynamic environment normalized to the point where individuals and groups of individuals could no longer recognize that the processes in place to identify and assess readiness were no longer working at the ship and headquarters level."
In other words, sailors have been so busy working that they haven't had time to refresh their training or pay adequate attention to safety procedures. It's not clear yet how the Navy will address that issue, especially since tensions in the Pacific — where all these accidents have occurred so far — seem to only be intensifying. Vice Chief of Naval Operations Adm. William Moran simply said, "We continue to have a supply-and-demand problem which is placing a heavy strain on the force."
(Via CNN)