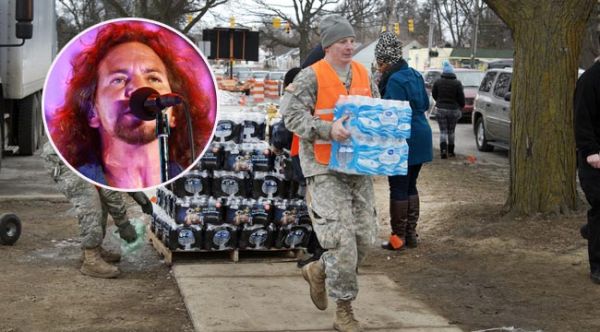 With Flint, Michigan in total crisis, the country is rallying together in order to help fix their tainted water supply. Celebrities (including the Detroit Lions and Cher), politicians, and citizens have donated literal tons of water in order to keep the residents from using their taps, which have been using the Flint River as a water source. For years, the Flint River had factory runoff and was considered so corrosive that GM's Flint Engine Operations wouldn't use it to manufacture engines. Now, you can count on Pearl Jam as the latest big donor in the fight to help Flint.
The Seattle grunge fathers (grandfathers?) and their manager have pledged a donation of $125,000 to The United Way of Genesee County, which is aiding Flint in this horrible and almost incomprehensible time. In addition, entities close to Pearl Jam, such as Universal Music Publishing Group and even their one-time foes Ticketmaster, have donated an additional $175,000 to United Way, bringing the total raised to $300K.
But the work is far, far from done. Flint won't have their new water facility until sometime later in 2016, so Pearl Jam is strongly urging you donate to their Crowdrise page in order to give the people of Flint the clean drinking water they deserve. You can also donate to the Eastern Michigan Food Bank, which is providing bottled water to residents.
(Via Pearl Jam)