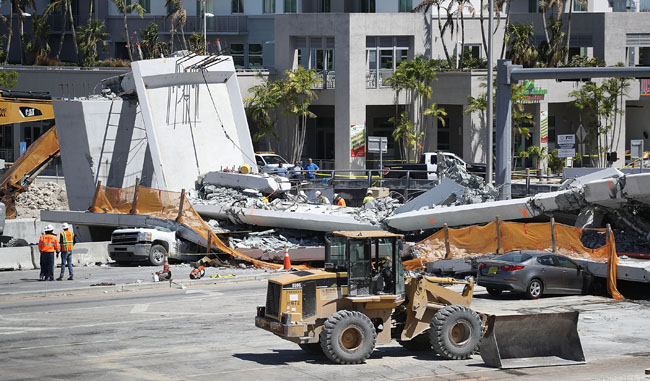 New details are starting to emerge about the horrific Florida International University pedestrian bridge collapse that claimed at least six lives on Thursday afternoon. The prefabricated bridge, which had only been installed just days before the accident and was set to open in 2019, had been touted as having an "innovative installation method" by the bridge designers and construction firm.
Although the engineering company who moved the bridge praised its installation in now-deleted tweets, the lead engineer for the design firm, Figg Bridge Engineers, had reported cracks in the bridge two days before the collapse. The engineer had apparently left his concerns in a voice mail message for a Florida Department of Transportation employee, who unfortunately had been out of the office until Friday. At the time however, the engineer had not deemed it an immediate safety concern.
"We've taken a look at it and, uh, obviously some repairs or whatever will have to be done, but from a safety perspective we don't see that there's any issue there so we're not concerned about it from that perspective," said the engineer, W. Denney Pate. "Although obviously the cracking is not good and something's going to have to be, you know, done to repair that."
FDOT released a statement on Friday absolving any responsibility for the accident. "The responsibility to identify and address life-safety issues and properly communicate them is the sole responsibility of the F.I.U. design-build team," the agency stated.
Figg Bridge Engineers likewise released a statement that it was "heartbroken by the loss of life and injuries" and would be "carefully examining the steps that our team has taken in the interest of our overarching concern for public safety" — though the company still stands by its initial evaluation at the time that there had there had been no safety issues indicated.
Update: According to a statement from Florida International University on Saturday, representatives for the university met with Figg Bridge Engineers, the construction manager, and the Florida Department of Transportation to discuss the crack just hours before the collapse. During the meeting, Figg Bridge Engineers delivered a technical presentation in which it was concluded that "there were no safety concerns and the crack did not compromise the structural integrity of the bridge."
(Via New York Times)