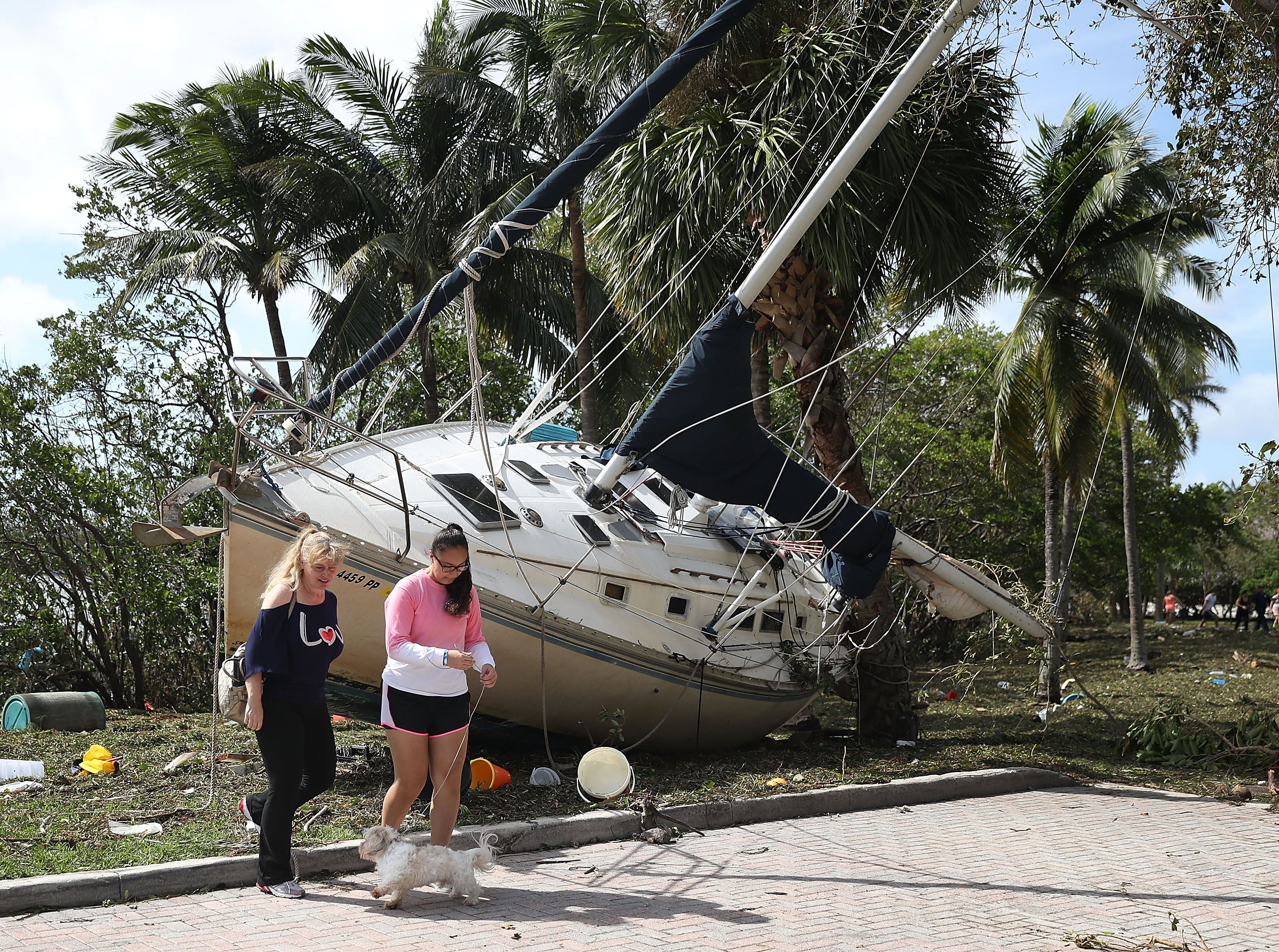 It's going to be at least ten days until the lights are back on along the path of Hurricane Irma, which ripped into Florida on Sunday and left 15 million homes and businesses without power. FEMA Administrator Brock Long explained that "basically, every house in the Keys was impacted some way." 65% sustained significant damage, and 25% were totally destroyed. Hospitals and airports are still struggling to get back online. "We've never had that many outages," said FPL president Eric Silagy. "I don't think any utility in the country has."
It's not just the Keys that were hard hit. Jacksonville, Florida was devastated by storm surge. Even inland cities like Orlando were lashed by high winds and intense rain. Then there was the sheer size of the storm: Irma was large enough to affect nine states total as it pressed northwest after savaging the Caribbean. Charleston Mayor John Tecklenburg said of the storm surge that flooded the city, "It sounds kind of counterintuitive that we'd have that, because the center of the storm is over 200 miles away in western Georgia, and here we are over on the coast of South Carolina."
Indeed, the damage to South Carolina was even worse than when Hurricane Matthew hit last fall, despite the storm being on the opposite side of the region. Florida, Georgia, and South Carolina each had at least one fatality, for a total of 12 dead. Georgia, Alabama, and the Carolinas have had widespread power outages, too. Hospitals and airports are still struggling to get back online, and the earliest that power might be restored is ten days from now according to Florida Power & Light.
It's going to be a challenge to clean up. With so many downed power lines and flooding, it's not safe for residents to return to their homes in all instances. "A lot of people lost everything," said Keys resident Darwin Tabacco. "There's homes blown off the stilts. There's power lines down all over the place. Trees completely uprooted. People's businesses flooded. Septic fields flooding. It's just terrible."
Irma, now a tropical depression, is still swirling over the southeastern United States. Atlanta issued its first ever tropical storm warning ahead of Irma, and now the storm is expected to dump further rain on the Tennessee Valley, two hours north where Tennessee borders Georgia and North Carolina. Even as Florida begins its efforts to clean up and rebuild, the storm is still out there continuing to cause trouble.
(Via CNN, ABC & New York Times)