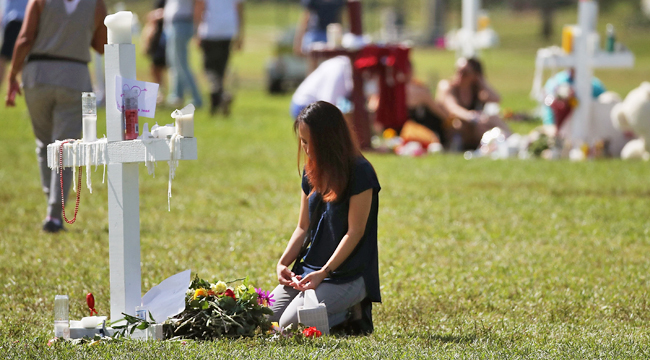 Despite all the warning signs swirling around Florida School Shooter Nikolas Cruz, it seems that state representatives joined the feds in failing to act on the troubled individual. Previously, it was reported that, five months prior to the massacre, the FBI was warned about online comments and threats made by Cruz, and on Friday, the bureau admitted that it failed to act on a tip about Cruz's "desire to kill people" a month before the shooting attack. Now, the Washington Post is reporting that Florida social services shuttered an inquiry into Cruz's disturbing behavior after concluding that his "final level of risk is low."
After a number of tips, including information on Cruz being expelled from Stoneman Douglas high school for violent behavior, the Florida Department of Children and Families couldn't find grounds to take action. The mountain of alarming behavior included Cruz cutting himself in a Snapchat video, carrying a backpack emblazoned with a Nazi symbol, and law enforcement responding to his family home nearly 40 times. Two months after the probe closed, Cruz legally purchased the AR-15 rifle that he used during the massacre:
The investigation was closed less than two months after it began, concluding that there were "no indicators to support the allegations of inadequate supervision or medical neglect." The report does not say who made the allegations that prompted the probe. Attorneys representing Cruz acknowledge his guilt, but they have assailed the missed warnings that piled up over the years before the bloodshed at Douglas.

"The system that's designed to identify folks that are posing a threat to themselves and more importantly to others, it failed," said Gordon Weekes, the chief assistant Broward County public defender and one of the attorneys representing Cruz. "It just utterly failed. . . . With all these failures in the system that should have recognized a clear cry for help, the system did not work the way it was designed."
An important note — the massacre occurred a year after the Florida DCF's file mentions Cruz's "intention to purchase a gun."
In other words, Cruz's behavior was not only on the radar at his former school but also on the state and federal levels, and he was still able to carry out his violent plan. All of this probing occurred while he was reportedly introducing himself to random people as "a school shooter," posting disturbing online messages that targeted minorities and women, harassing his neighbors, and apparently joining a white nationalist militia. Cruz painted his intent all over the place, and somehow, this tragedy still couldn't have been prevented.
(Via Washington Post)