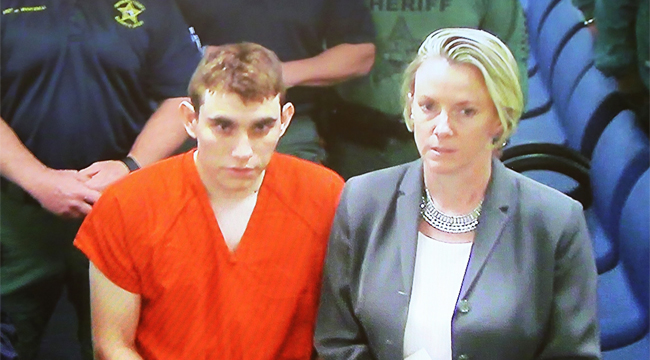 The day after Nikolas Cruz allegedly killed 17 students at a Parkland, Florida high school, several reports indicated that people saw signs of what he was capable of doing. For instance, students apparently joked about how "he was going to be the one to shoot up the school." The FBI was also warned about Cruz's online threats five months ago, and now, CNN is now reporting how a Cruz acquaintance revealed that he'd introduce himself to people like this: "Hi, I'm Nick. I'm a school shooter." Further, Cruz apparently remarked in online comments that he "can do so much better" than other mass shooters.
And while it seems that Cruz didn't even try to hide what he wanted to do, KTLA is also reporting that law enforcement was very familiar with his family. Cruz was an orphan, and his adoptive mother recently passed away, but since 2010, deputies visited the Cruz home nearly 40 times for various reasons:
Broward Sheriff's deputies were called to the Cruz family home 39 times since 2010, according to documents obtained by CNN. The sheriff's office received a range of emergency calls that included: "mentally ill person," "child/elderly abuse," "domestic disturbance," "missing person." Details of those calls are not immediately available; most of them are marked "no written report," so it's impossible to know if they involved Nikolas Cruz.
Indeed, it's impossible to tell whether any of all of these calls related to Nikolas Cruz's behavior at home, but CNN has also painted a portrait of a disturbed individual that people perceived as ranging from "a little off" to "an evil kid" who was "always getting in trouble." It was previously reported that Cruz had been expelled from Stoneman Douglas High School prior to the massacre, and his exit was tied to a fight with the boyfriend of Cruz's ex-girlfriend, to whom he was allegedly abusive.
In addition, it was also revealed that Cruz (chillingly) stopped for fast food after allegedly carrying out the deadliest school shooting since Sandy Hook. He's since been arrested and charged with 17 counts of murder and has confessed to police, although his lawyers are working to establish him as a "broken child" and are understood to be pursuing a defense based on mental health.
The Sun-Sentinel also reports that Cruz spared the life of one Douglas High School freshman. Chris McKenna told the paper that before shooting began on Wednesday, Cruz encountered him in a hallway and warned him to "get out of here … things are gonna start getting messy."
(Via CNN, KTLA & Sun-Sentinel)