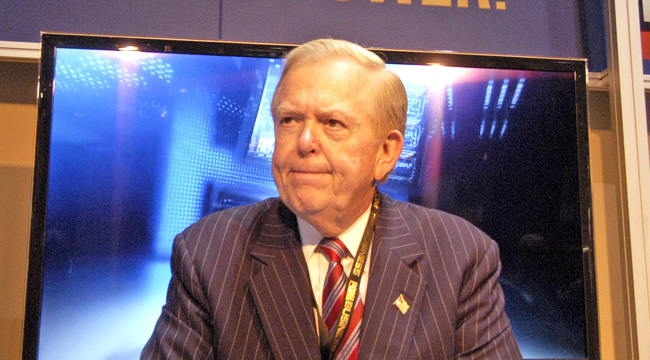 On Thursday, Fox Business host Lou Dobbs disseminated the phone number and address that, presumably, belongs to Jessica Leeds. She's one of multiple women who has recently accused Donald Trump of unwanted sexual advances. Dobbs' outing of the accuser came as he was retweeting someone's tweet saying the accuser was linked to the Clinton Foundation.
Dobbs has been an ardent Trump supporter and has blanketed his Twitter page with proof of his political leanings. But his latest act of allegiance to the media mogul may have gone a bit far. The original tweet, which has already been deleted (you can see a version of the tweet here with the sensitive information redacted), was a retweet of someone saying they have "uncovered" information about a Trump accuser being linked to the Clinton Foundation. Dobbs applauded the tweet saying "This is the Dirtiest Campaign in our History" with the "MAGA," "TrumpPence16," and "AmericaFirst" hashtags. But Lou apparently didn't notice that he was tweeting someone's phone number and address.
Dobbs has since un-retweeted the tweet, but not before at least 800 people retweeted it. And then he issued an odd, sort-of apology to Leeds.
Is this really an apology? He simply tweeted a link to Politico's story on his retweet. And whether or not Dobbs meant to provide this woman's contact information and address, this may have been what some accusers feared would happen if they come forward about Trump's unwanted advances. The internet will eviscerate anyone at the drop of a hat, and Dobbs' callous tweeting is just one of the ways these accusers can be attacked.
(Via Business Insider & Politico)