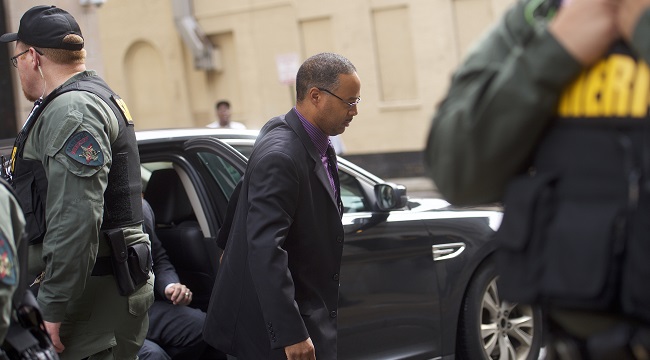 Caesar Goodson Jr., the Baltimore police van driver facing the most serious of the many charges levied against him and five other officers following the death of Freddie Gray, will go free. On Thursday, Baltimore Circuit Judge Barry Williams acquitted Goodson of second-degree depraved heart murder, as well as second-degree assault, reckless endangerment, misconduct in office and three counts of manslaughter. Along with the same judge's acquittal of arresting officer Edward Nero in May, this means that the remaining cases are in jeopardy of producing similar outcomes for the four other defendants.
According to the Baltimore Sun, Williams said the prosecution "failed to meet its burden" of producing enough evidence to support its claim that the six officers' actions and negligence led to Gray's death a week after his arrest. Gray had suffered a broken neck after being placed in the back of a police van driven by Goodson and died as a result. However, the judge overseeing Goodson's five-day trial determined "the court can't simply let things speak for themselves," thereby lifting all charges against him.
Unlike Nero, the case against Goodson was the most severe as prosecutors argued his driving and negligence led to Gray's death:
Prosecutors alleged Goodson had five chances to render aid to Gray after his neck was broken in the back of the van, which they said demonstrated a "depraved heart."

They also said Goodson was the direct cause of the injuries, driving the van in a reckless manner that threw him in the back of the van's steel cage, shackled but unrestrained by a seat belt. As a certified field training officer, prosecutors said Goodson knew Police Department rules and broke them.
As soon as news of Goodson's acquittal broke, several city and state officials issued statements warning protesters against riotous behavior. Maryland state senator and Baltimore mayoral candidate Catherine Pugh agreed that "protests are a vital part of democracy," but warned against "unacceptable" behavior like "[destroying] the homes and businesses many people have worked very hard to build." Meanwhile, current Baltimore Mayor Stephanie Rawlings-Blake tried to appease protesters and potential rioters, saying Goodson "will face an administrative review by the Police Department."
Despite these warnings, BBC News reported that several peaceful, sign-carrying protesters were in front of and near the vicinity of the Baltimore Police headquarters. Which is understandable since, unlike Nero's case in May, Goodson's represented the most serious challenge for prosecutors and defenders alike. Because of the severity of the charges against the van driver, many considered his case to be the one that would set a precedent for the rest. With two of the six officers involved in Gray's arrest and death now acquitted of all charges, it seems that precedent has already been established.
This appears to be welcome news to the National Fraternal Order of Police and its Baltimore chapter. The former issued a statement from its president, Chuck Canterbury, in which he celebrated Judge Williams' decision:
(Via Baltimore Sun, BBC News and Huffington Post)