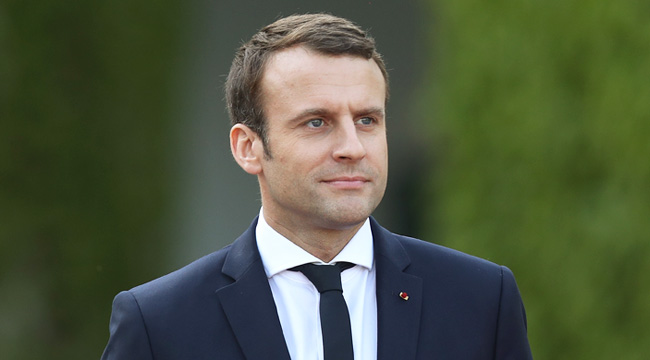 Preparations are in full swing for the July 14 Bastille Day celebrations in France, and authorities are on high alert after last year's truck attack in Nice that killed at least 85 revelers and injured hundreds more. The BBC now reports that a man has been arrested and charged with an alleged plot to assassinate new French President Emmanuel Macron during his planned speech at Versailles within the day's ongoing festivities.
The unidentified man, a 23-year-old self-described nationalist and far-right extremist, reportedly made alarming and detailed comments in a gaming chatroom. Users subsequently reported that he spoke of acquiring a gun and not only killing Macron but also targeting minorities. Last Wednesday, police apprehended him at his home in a Paris suburb and discovered several knives in his car along with a computer that revealed search histories "on potential targets." Authorities also reveal that the man had a hefty history:
He was charged on Saturday with plotting to commit a terrorist act, the judicial source said. The man was convicted for condoning terrorism in 2016 and sentenced to three years in prison, of which 18 months were suspended.

He had applauded the neo-Nazi mass murderer Anders Behring Breivik, who killed 77 people in a bomb and gun rampage in 2011 in Norway.
Obviously, security will be heavy during the Paris Bastille Day parade (along with events that are scattered throughout the country), which marks the beginning of the French Revolution in 1789. The main stretch of the event occurs on the Champs-Élysees, which has seen not one but two possible terror attempts in the past few months. This year's event will not only serve as Macron's first Bastille Day as president, but President Trump will also be in attendance for the traditional military parade.
(Via BBC & The Guardian)