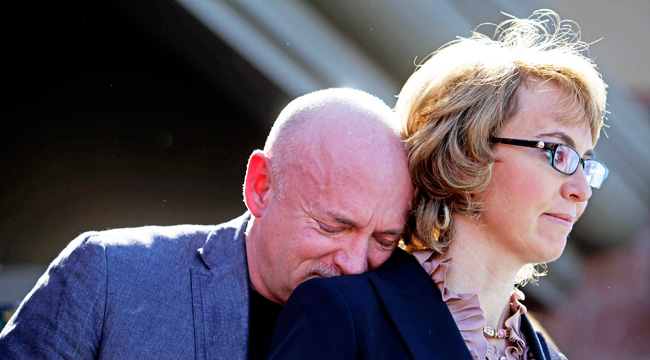 Former Congresswoman Gabrielle Giffords (D-AZ), who herself survived an assassination attempt, released a heartfelt statement on the shooting that targeted a Congressional baseball practice. House Majority Whip Steve Scalise was shot, along with former staffer Matt Mika, two police officers, and possibly others as well. The attacker, a 66 year old St. Louis man named James T. Hodgkinson, was shot by law enforcement during the ensuing firestorm. Giffords aimed to rally Americans together, regardless of their partisan positions:
"It doesn't matter if you're a Democrat or a Republican, nor if you're a senator or a representative, nor a staffer or a sworn officer. If you serve the instituion of Congress, you're connected to your colleagues, current and former, by a shared sense of service to ideals far greater than yourself. This shooting is an attack on all who serve and on all who participate in our democracy.

I am heartbroken for the pain of Congressman Scalise, the other victims, and their family, friends, and colleagues who survived. I am thankful for the great courage of the Capitol Police, who were my protectors after I was shot and became my friends. I also know the courage it takes to recover from a shooting like this, and I know Steve and everyone there this morning have such courage in great supply.

May all Americans come together today with prayers for the survivors, love for their friends and family, and the courage to go about everyday making this country its best. Our nation is resilient, and we always come back stronger."
Gifford was shot in the head in 2011 by Jared Lee Loughner, a mentally unstable young man, at a meeting with her constituents in Tucson, Arizona. In addition to shooting Gifford, Loughner also shot eighteen others. Federal District Court Chief Judge John Roll was among those killed, as was staffer Gabe Zimmerman, and nine year old Christina-Taylor Green. Gifford's injuries were critical, and for some time, it wasn't clear if she would survive.
Earlier today, Gifford also expressed her sympathies for today's survivors on Twitter.
No one was killed in this morning's baseball field shooting except for the assailant, though Steve Scalise was shot in the hip. The condition and identities of the other casualties have yet to be released.