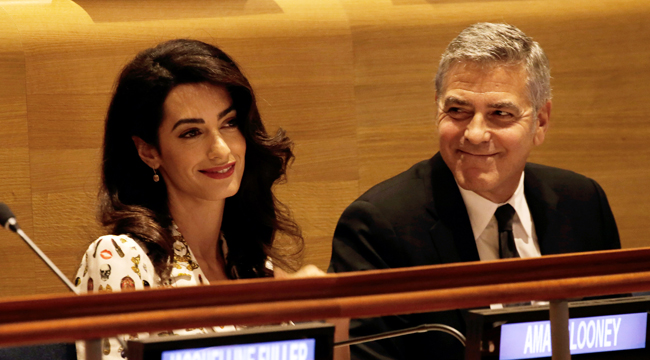 If anything can prompt measurable results for gun-control efforts in the U.S., it will likely be the teen survivors of the Florida school shooting. Stoneman Douglas High School students Emma Gonzalez, Cameron Kasky, and David Hogg have all put the adults — mainly, politicians who accept NRA donations — on blast for failing to protect children. Two grown-ups who have signed on to help the students March For Their Lives just happen to have dropped $500,000 to fund the cause and lend their presence to the event itself.
That is, famed human rights attorney Amal Clooney and her award-winning actor husband, George, have pledged not only their money but have also vowed to stand alongside these survivors on March 24 in D.C. To this effect, George released a statement:
"Amal and I are so inspired by the courage and eloquence of these young men and women from Stoneman Douglas High School,. Our family will be there on March 24 to stand side by side with this incredible generation of young people from all over the country, and in the name of our children Ella and Alexander, we're donating $500,000 to help pay for this groundbreaking event. Our children's lives depend on it."
The Clooneys regularly donate large sums of their vast fortune to worthy causes. For George's part, he often lends his time to projects that reap proceeds for charity, and last August, he and Amal handed $1 million to the Southern Poverty Law Center in the wake of white supremacist violence in Charlottesville. Will other powerful figures follow suit for this march? We'll probably soon find out.
(Via CNN & Southern Poverty Law Center)