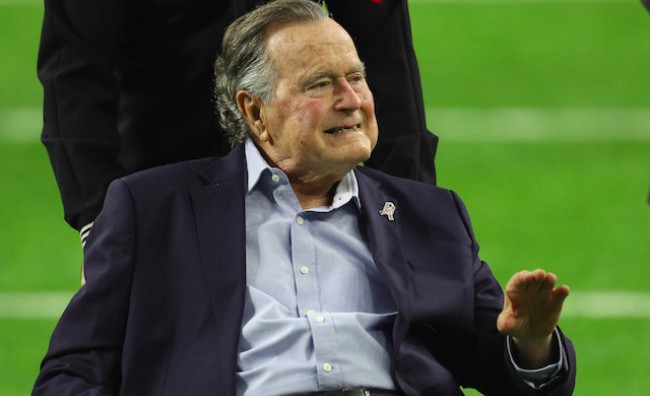 For the second time in 2017, the 41st President of the United States George H. W. Bush was admitted to Houston Methodist Hospital due to pneumonia related issues.
An official statement from the 92-year-old political veteran's office shared that Bush was admitted to hospital and is recovering and regaining his strength. The visit to Houston Methodist was brought on by "a persistent cough that prevented him from getting proper rest."
"It was subsequently determined that he had a mild case of pneumonia, which was treated and has been resolved," wrote spokesman Jim McGrath. "President Bush is in very good spirits and is being held for further observation while he regains his strength"
CNN reports that they've spoken with a source that claims Bush "is receiving IV antibiotics and will probably be kept at the hospital for a few more days for observation." The hospitalization occurred on Friday, but the same source noted that the Bushes did not want worry anyone with an announcement over the holiday weekend.
In January, Bush was placed in intensive care due to a pneumonia-related acute respiratory problem. (First Lady Barbara Bush was also hospitalized at the time.) At Super Bowl LI, the Bushes would make a surprise appearance for the coin flip and receive a standing ovation from the Houston crowd.
(Via CNN)